BOOYAH! Recovery Manager for SharePoint has been selected as a finalist in the SharePoint Administration category of the Best of Tech-Ed 2011 Awards! The SharePoint Administration category is a new one this year designed to include a wide range of SharePoint solutions that ease the burden of SharePoint management on administrators and encourage end user adoption of SharePoint. The annual awards are presented by Penton Media's Windows IT Pro, SQL Server Magazine, DevProConnections and SharePointPro.
Quest is pleased to have Recovery Manager for SharePoint as a finalist in this category. Recovery Manager puts the power of SharePoint backup and recovery in the administrator's hands, enabling them to recover what they need, when they need it and where they need it from their own or enterprise wide backups.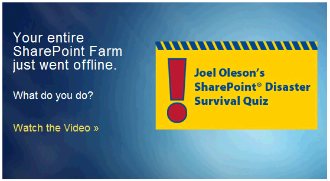 Saves money by automatically scheduling native backups of SQL and SharePoint configuration and content databases as well as working with third-party backups you already have; no additional backups are required!
Ensures productivity anytime by restoring all information stored in the databases, including alerts, permissions, workflow state and associations, metadata, custom views, Web Part links and farm services, and configuration settings; you can restore data back to the original or a new SharePoint site or save it to your desktop even when SharePoint is not available.
Saves time by letting you easily search, locate and preview any items from across multiple database backups and recycle bins before restoring them; you also have a web-based console to delegate search and restore options.
To learn more about Recovery Manager for SharePoint, then watch the Joel Oleson SharePoint Disaster Survival Quiz and then take the quiz for yourself here.
Stay tuned to this blog to learn about more exciting Recovery Manager for SharePoint news, videos and product releases!