When we asked DBAs in a global survey how much data they had under management, 30 percent of the respondents said 500TB. That's terabytes—as in equal to the printed collection of the U. S. Library of Congress times 50! What's more, nearly two-thirds of database admins suggest corporate data growth rate is between 10% and 50% annually.
We're going to need a bigger boat data center.
The explosion of data continues to make headlines. While the analytic-types among us drool at the promise of insights and business intelligence, DBAs not only face the challenge of growth in general but also learning how to manage these new data types and new RDBMS and NoSQL database platforms.
Experiencing major structured and unstructured data growth? See how your projections compare with other DBAs in a complimentary report from Quest and Unisphere Research.
There have been huge advancements in the ability to capture, store, retrieve and analyze new forms of unstructured data. So, is your organization behind the curve in managing that data? Probably not—yet.
Structured data in relational database management systems (RDBMS) remains the foundation of the information infrastructure in most companies. In fact, two-thirds of the respondents indicated that structured data represented at least 75% of the data under management. You might find it surprising that nearly one-third said that their organizations do not actively manage unstructured data at all.
However, nearly 40 percent of DBAs said unstructured data was growing between 10 and 25 percent annually.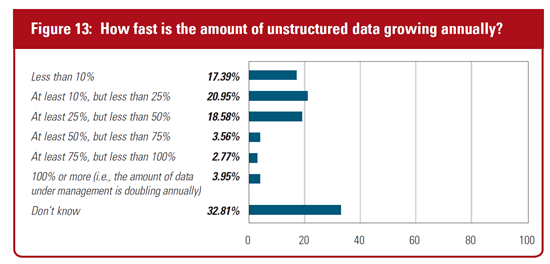 What's also interesting, albeit concerning, is that nearly a third of DBAs don't know how fast corporate unstructured data is growing and likely won't be able to predict the data management needs they will face moving forward. With volumes of text documents and email generated internally – what DBAs classify as the two biggest drivers of unstructured data growth – DBAs can anticipate a time when they are asked to use data mining techniques or Natural Language Processing (NLP) to manage and apply analytics to unstructured data. Are you prepared?
To find out more about the trends in structured and unstructured data growth, download the complimentary study, "The Real World of the Database Administrator" and see how you and your organization compare.
With continued data growth expected, expect relational database managers to be in demand for years to come. How will the responsibilities change? Stay tuned for more DBA insights.