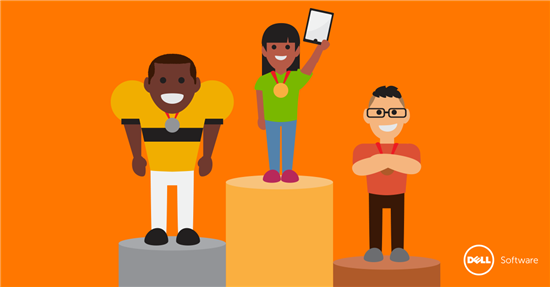 Getting the most out of the educational process while also getting the most out of technology is a tricky balance.
Guiding education responsibly is the process of mixing learning models, creativity, exercises and spontaneity. Managing IT responsibly seems to be the process of saying "no" most of the time, as I mentioned earlier in this blog post series.
But when the two are in balance, and one-size-fits-all instruction gives way to flexible, student-centered learning both inside and outside the classroom, then the biggest winners are the students.
Student-Centered Learning — Three Big Issues
We've released a new e-book called Aligning the Learning Model with the IT Model to emphasize the role of IT in helping educators teach the way they want and students learn the way they need. From years of experience with school districts and colleges worldwide, Dell has identified three big issues IT faces in playing that role:
1. Managing all endpoints from a single appliance
It might make your job easier if you could ban all Windows laptops or iPads from your network, but it wouldn't make you very popular. It might also cramp the diversity your school needs to develop its learning model.
But if you have to live with that many platforms on your network, you'd probably prefer to have a single tool and interface to manage all of them. Straddling separate tools for separate platforms gets old quickly, so managing all endpoints from a single appliance is a priority for many system administrators in education.
2. Supporting assessments and testing
When the technology required to administer tests was limited to filling in bubbles on a test sheet with a pencil, teachers managed on their own. As standardized testing has moved to PCs, Chromebooks and tablets, they rely on IT to keep the devices updated, the network reliable and the students honest.
IT can configure and maintain a secure image, but then it has to provision every device with it. Automating that process is a huge time-saver; without automation, the task becomes unwieldy, error-prone and unreliable.
3. Fostering interoperability
Consider some of the moving parts behind a school's portal:
Student information system
Learning management system (LMS)
Data warehouse
Parent notification system
Single sign-on for digital content
Communication platform to connect students, teachers and administration
When those moving parts are made without standards in mind, they become harder for IT to manage and control. It should be possible for sysadmins to monitor the machines running those components and keep them interoperable.
New E-book: Aligning the Learning Model with the IT Model
We've put together an e-book called Aligning the Learning Model with the IT Model. Starting from the concept of student-centered learning, it draws the path to systems management and systems deployment with KACE appliances in education. Have a look at the e-book for three case studies and more details on aligning learning with IT in both K-12 and higher education.