vFoglight is used mainly to monitor virtual environments (VMware vSphere and Microsoft Hyper-V).
But lets be realistic for a moment - are you 100% virtualized yet?
No, I didn´t think so. This makes it necessary to have a monitoring solution that is capable of monitoring both virtual and physical environments.
So what physical operating systems can we extend vFoglight Pro (not available in SE) to monitor?
Windows 2008(R2) / 2003 / 2000
Linux Kernel 2.6 / 2.4
AIX 6.1 / 5.3 / 5.2
SunOS 5.10 / 5.9 / 5.8
And a few others
These OS agents can be deployed to VMs as well. This lets you monitor the OS more in depth than what´s available from the hypervisor (Event Logs, Services, etc). Avoid monitoring performance data of a VM with an OS agent as that data is already collected (and collected more accurately) within the hypervisor.
You can combine performance data and alarms from both the virtual and physical environment on one dashboard, making it easier to see an entire application no matter where it´s running.
Below are our perspective views for different hypervisors and operating systems. From this top level, you can drill down into individual virtual or physical machines which have triggered alarms.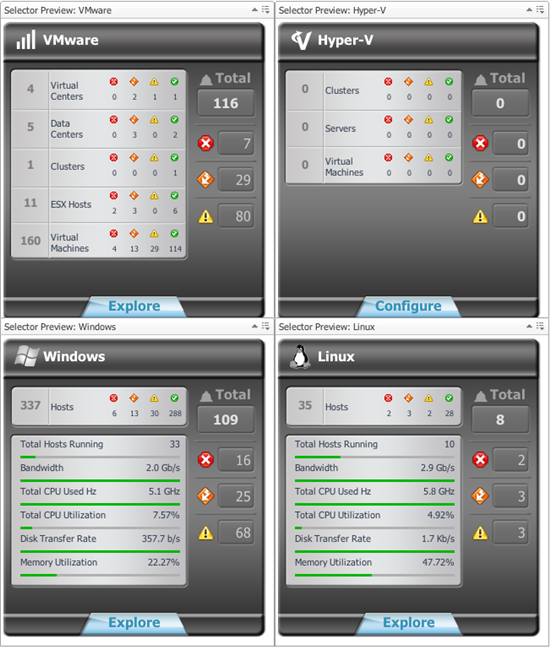 I highly recommend you to look at these two excellent tutorials created by Aaron Newsome, Senior Systems Engineer at Quest to learn more!
Part 1: Tutorial showing what you need to prepare to be able to monitor physical hosts
Double-click on video to view in YouTube
Part 2: Tutorial showing different use cases for physical hosts monitoring
Double-click on video to view in YouTube
If you have any questions, feel free to ask them in the comment section, ask me on Twitter @msundling or send them to your Quest representative.