Why do analytically driven companies adopt cloud?
It seems like a pretty straight forward question and more often than not most people assume the answer is centric to the economics of cloud. From the very beginning cloud has had a reputation for being a cheaper alternative to traditional on-premises solutions. It's not an absolute truth in every implementation but cloud can often deliver an economic upside in comparison to on-premises solutions. Cloud helps companies avoid the risky capital investment often necessary with IT projects.
Not surprisingly IT and Business users see advantages to cloud through different lenses and they drive growing adoption of cloud for analytic use cases across the enterprise. A recent research study executed by Enterprise Management Associates (EMA) determined there was a wide variety of drivers and influencers behind cloud adoption in the enterprise. (Click here for a free summary of the research.) In companies 500-5000 employees in size "team leaders" were mentioned as the most likely to control cloud based analytic budgets and these executives engaged cloud solution as an operational expense, side stepping the more traditional capital expenditure that is commonly part of IT projects.
The EMA chart below details the business drivers for cloud analytic adoption and as you can see monetary concerns are overshadowed by the need to implement analytic projects faster, create a more adaptive and flexible analytic environment. As IT projects come under greater control and sponsorship from the business these cloud advantages are helping IT match the demand of their end users and move at the speed of the business.
The technical drivers for analytic cloud workloads differs greatly from the business drivers the line of business (LOB) is most interested in speed and flexibility while technical drivers for cloud adoption look to improve data security, technical agility and improved software availability according to the EMA study.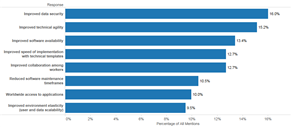 Regardless of technical or business drivers cloud based analytics is a fast growing solution area for smart innovative companies. Workloads like sales analytics, risk management, marketing analysis are all serving critical needs within companies and leveraging the cloud and analytics to create competitive advantage over slower less agile competitors. The EMA study examined 831 cloud analytic projects and found that 41.5% of the responding companies had 3-4 cloud projects underway. If your company remains tentative towards cloud analytic adoption the data indicates you are falling behind the market trends and perhaps missing a critical opportunity to improve your company's performance.
Next Steps
Want to learn more? Download our White Paper, "Analytics in the Cloud".