One of the most common tools people have purchased over time in SharePoint Land is Backup & Recovery tools. The Microsoft SharePoint team made great strides, but still missed the mark in SharePoint 2010. Unattached recovery is a great concept. It's great we can now recover from a database without the database being attached to the farm. This definitely should reduce the number of recovery farms, but the big challenge...
1. How do I know what database the file or site is in?
2. How can I recover a workflows that's been removed?
3. What happens to my in state workflows?
4. Where in the site collection is the file?
5. What happens to my last modified dates?
While the demo of recovery looks really pretty slick with the new unnattached recovery tool, it definitely falls down when it comes to getting things back to the way they were.
Here's an example of how Quest Recovery Manager for SharePoint addresses these problems still unaddressed in SharePoint 2010 and why people should still consider tools to save them time, and ensure data integrity.
1. Indexed backup files ensures you can quickly find the database or backup the file was in. In fact while unattached recovery supports SQL and SharePoint database backups, there are a number of file formats not supported that Recovery Manager from Quest does support including Backup Exec, LiteSpeed, Tivoli and more.
2. Two recovery modes ensures you can restore even the stubborn and sensitive content. Workflows included.
3. Yep even state of workflows, views, list settings, and recycle bin items are all recovered. You get full fidelity recovery that is worth paying for. Otherwise you end up either rolling back your data or compromising on what to give up. You don't have to decide. You can have it all.
4. Finding a file out of a site or site collection is a needle in a haystack. Having search over the content in your backups gives you the ability to find that file where the user only knows a little of the file name or remembers bits and pieces of info. This saves you a ton of time and ensures you can actually accomplish the job.
5. Unfortunately unattached recovery hammers the last modified dates on recovery of a site when you run the import powershell script. There is a lot of other stuff that gets removed on export and messed up on import. Last modfied dates in some environments are extremely sensitive. That's data you don't want messed up by some admin. A good recovery tool shouldn't make you have to reset all your dates due to a need for restore.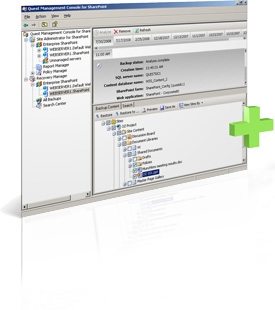 Another reason to consider this tool is due to it's nature of being light weight. You really decide what you want to use for backup, and this handy tool slides in when you want to get granular and in fact can now be used for even less granular backup cases such as database failure, corruption, or server failures. It will step you through the recovery and get things back the way they are supposed to be.
Check out Quest Recovery Manager
Give it a spin on the virtual on the fly Quest Drive where you get your own virtual environment spun up saving you tons of time.
Enjoy...