It seems like IT's "migration work" is never over. There was XP to Windows 7, Server 2003 to Server 2012, now there's Windows 10. This next year is going to be a huge one for Windows 10 adoption and migration - In just one month, Windows 10 surpassed both Linux and Mac OS X in terms of desktop market share – and doubled the market share of Windows 8.0.
It doesn't hurt that Microsoft is offering free upgrades to Windows 10 Pro for those that upgrade in the first year. Looking at the roster of new capabilities for the enterprise – Windows 10 offers a gaggle of new compelling features in the area of security and manageability for those that know how to take advantage of them. A migration effort is never fun (or easy), but in this case, it looks like the destination is a really good one (as was Server 2012 R2 for those moving from Server 2003).
In looking over the agenda for the upcoming Dell World Software User Forum (in Austin TX October 20-22), I've spotted all kinds of useful sessions for those looking to jump to Windows 10 – for example, sessions SUF 02, SUF 04, SUF 28, SUF 30, SUF 32, SUF 35, SUF 47, SUF 57, SUF 06, SUF 08, SUF 26.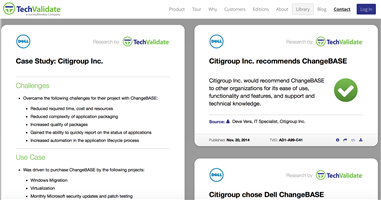 Also, anyone attending should search out the ChangeBASE team – I was just perusing techvalidate.com/collections/why-dell-changebase and it's clear that desktop migration is one of the major "use cases" for ChangeBASE, with organizations ranging from Citibank to the State of New Jersey having used the product for Windows XP to Windows 7 migration (so I'm sure it's useful in XP/7/8/8.1 to 10 migration). Also, the Desktop Authority folks seem to have a ton to offer in this area.
Hope to see you there,
Hollis