Coexistence is a key concern for companies that are undergoing an Office 365 migration. With the rise in M&A activity, we'll start to see more and more companies that need to either merge or consolidate their Office 365 environments. Divestitures and general growth management means that organizations will need help to efficiently move users, email and data from one Office 365 tenant to another. And all the while they need to keep their users working.
Making sure users can still send and receive email with the desired vanity domain name (i.e. the new target company name) is now easier than ever with a new feature in On Demand Migration called email domain name coexistence.
The diagram below shows how emails leaving the source domain get rewritten to look like they're coming from the target domain. Also, to ensure no one remaining on the source domain loses any email, we can also forward emails destined for the target mailbox to the source mailbox so all bases are covered.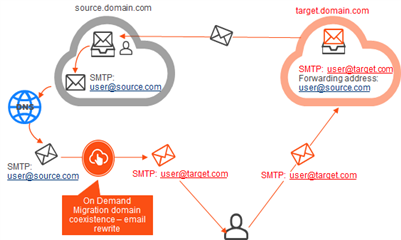 This is just one more way that we can help with coexistence, we can also enable calendar sharing and resource processing – so SharePoint permissions and sites from the source domain can still be accessed throughout the migration.
On Demand Migration is a SaaS solution that takes the risk and complexity out of Office 365 tenant to tenant migrations. We're adding new features at breakneck speed. Come back to this site to check out the great new stuff coming very soon!
In case you missed our webcast, check it out here: Webcast - Achieving Coexistence in Office 365 Tenant Migrations (Delivered Jan 15th).
If you want to know more about our Quest On Demand solutions, visit Quest TV: quest.com/TV or sign up for a