By: Ragnar Heil, MVP, Microsoft alliances manager, EMEA, and channel account manager
With the recent release of SharePoint Server 2019 and the impressive, rapid development of SharePoint Online in Office 365, it's clear that SharePoint is always changing. I've been working with SharePoint for 13 years now, and I've experienced significant change in my life and career as well. I am proud to be again recognized as the number six influencer in Europe — one of a group of 25 amazing people as well as part of a strong overall supporting SharePoint community. Thank you, Harmon.ie for this recognition!
At our booth in Copenhagen, at the European SharePoint conference, I received a lot of questions, but there is one specific question I want to address today:
What have you done to become one of the top SharePoint influencers as well as MVP (Microsoft Most Valuable Professional) for Office Apps and Services (Office 365)?
Nearly four years ago, I, along with a bunch of other outstanding people, founded the Working Out Loud (WOL) community in Germany, connecting people from hundreds of companies. Now, John Stepper's WOL offers a new, innovative approach to reach goals better, easier and faster by collaborating in enterprise social networks. Find the story and more articles in my blog. Now, WOL is practiced in 40 countries, and more than15 Iarge enterprises are using it to enable digital transformations.
I believe that this approach of "getting things done" with major impact on toolset, mindset and skillset is also relevant for SharePoint and Office 365 communities, customers and partners because:
We can achieve complex, purposeful goals easier and faster when sharing what we are working on (e.g., inn company internal social networks and collaboration tools, public social media channels and confidential Working Out Loud Circles).
We deepen relationships with this way of working, and we create advanced co-learning experiences and legacies (Yes, we work digital, so that process and results can be stored, backed up and archived).
We share with generosity to help others reach their objectives. The days are over when we only focused on selling products. Now, its all about making people more productive, doing purposeful work, improving people's lives and making the world a bit better. Our philosophy at Quest is to solve complex problems with simple solutions. Our vision is to deliver technology that eliminates the need to choose between efficiency and effectiveness, which means you and your organization can spend less time on IT administration and more time on business innovation.
We increase our reputation by making our work visible. Being a subject matter expert is becoming more important when machines are increasing their artificial intelligence — we might consider rediscovering our unique selling proposition (USP) as humans again.
During my 11 years at Microsoft, we talked a lot about growth mindset, especially after Satya Nadella became CEO. I greatly appreciate that WOL is all about growing together. It's the opportunity to have shared purposeful discoveries with personal focus which really matters to us. Openness for change and new methods, connectivity, purposeful goals, curiosity, resilience and the courage to leave own comfort zones are major drivers to stay on this journey.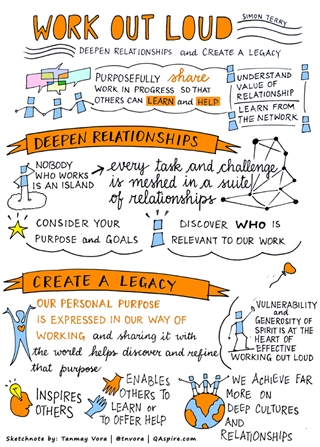 Source: Tanmay Vora: http://qaspire.com/2017/11/20/working-out-loud-relationships-and-legacy/
I'd love to continue this conversation, so feel free to reach out via LinkedIn, Twitter or any other social channel.
Otherwise, head over to our SharePoint page to learn more about our SharePoint solutions and all their capabilities.