Are you considering migrating to Office 365, or an on-premise Exchange server? Perhaps your company is involved in a merger or divestiture and you need to migrate under a condensed timeline, from one Office 365 tenant to another Office 365 tenant…
Would you like a solution that requires no on-premise infrastructure and scales up to meet your migration needs automagically? Well the good news is that many customers of all sizes have already used On Demand Migration for Email (ODME) to successfully complete their migration project without all the additional infrastructure planning and change management headaches that is typically required.
The better news is that ODME is now able to migrate Exchange Recoverable Items as well. You can now have the best of both worlds, a simple to use, cloud-based migration platform, that can also assist in maintaining compliance with legal and regulatory requirements by migrating Recoverable Items.
Better yet, this new feature can be enabled with a simple checkbox: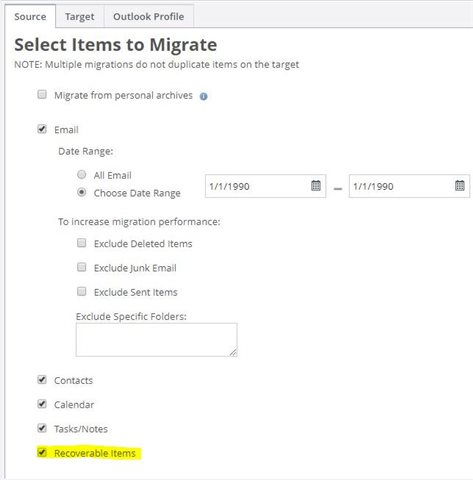 You can get started right now with a free trial of On Demand Migration for Email.