We are proud to unveil Quest On Demand, our first Microsoft Platform Management SaaS solution -- to better serve our customers who are rapidly adopting Azure AD and Office 365.
Yes, you heard that right, it's Software-as-a-Service! Our expandable design means we can very quickly grow our cloud portfolio while keeping it easy for customers and partners to adopt just the modules they want. Our preview customers and partners really liked our approach.
"The best part of the Quest On Demand suite is the promise of removing a lot of the infrastructure and administrative overhead required today. By removing those requirements we can respond to business needs with greater agility and effect."

– Sr. Systems Engineer at major health care provider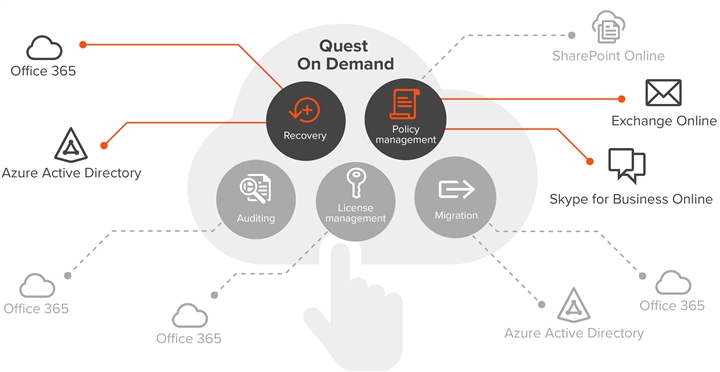 What is Quest On Demand?
No doubt about it, Office 365 is growing at an incredible rate. This explosive growth is driving an organizational shift in finding ways to not only better manage workloads in Office 365 environments, but also understanding how the business can take advantage of and benefit from this productivity platform. All this is great, but with cloud adoption comes a new set of challenges for IT staff.
We developed On Demand to address these emerging challenges. The initial modules offered in the Quest On Demand platform are:
On Demand Recovery for Azure Active Directory
On Demand Policy Management for Exchange Online
On Demand Policy Management for Skype for Business Online
Quest On Demand will deliver solutions that make it easy for our customers to safely and rapidly recover Azure Active Directory and Office 365 objects. Additionally, it allows for easy and audit-ready policy management for Microsoft Exchange Online and Skype for Business Online. Quest On Demand helps our customers cost effectively manage and maintain control of their new and expanding cloud resources – whether they are internal or federated users – all through a simple-to-use interface.
The future of Quest with SaaS
With On Demand, our customers don't need to install and configure on-premises software nor manage the roll-out of updates. The On Demand platform is ready to use after a few clicks and integrates with the core security features built into Azure to ensure data integrity and security. Now, our customers can innovate faster, reduce costs, and take advantage of enhanced security. This flexible SaaS delivery model will also enable us to quickly extend our portfolio in the cloud to include migration, audit and license management.
Try Quest On Demand today!
We invite you to take a free, 30-day trial of one or all of the Quest On Demand modules. With nothing to download or install, it's easy to get started. Just register, sign in and go!
Free Trial of On Demand Recovery for Azure Active Directory
Free Trial of On Demand Policy Management for Skype for Business Online
Free Trial of On Demand Policy Management for Exchange Online