Background
We are very excited to announce the general availability of Quest® Foglight® version 6.3.
Foglight is the world's broadest and deepest monitoring and optimization solution for the hybrid enterprise. Foglight brings unique top-to-bottom infrastructure monitoring and optimization capabilities for your hybrid IT stack including databases, cloud infrastructure, operating systems, hypervisors, containers and more.
What's New in version 6.3?
Query Insights
Foglight Query Insights feature is an essential tool for database administrators and developers to get a birds-eye view of the most time-consuming and frequently executed queries of an organization. This feature allows users to identify queries that are causing significant performance issues and prioritize them based on their impact.
Query Insights ranks and sorts "Queries" by "Impact," which is calculated based on the percentage of statement workload in comparison to the total instance workload. By analyzing queries with high impact, database administrators and developers can significantly reduce Mean Time To Resolution (MTTR) by focusing on queries causing performance issues.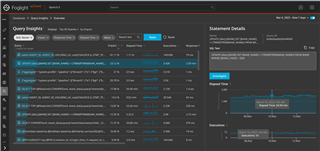 New Audit Log dashboard
With a modernized and more organized user interface, the View Audit Information dashboard is a great tool to explore log entries. These logs provide information on logged-in users, modifications to user security settings, and any adjustments made to rules, schedules, or registry variables. The dashboard also features a new timeframe selector and enhanced search functionality, allowing you to easily select a specific time period to view logs and print a selected set of entries to a file if needed.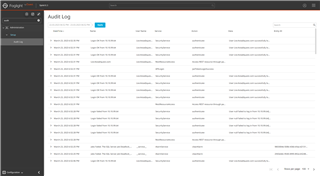 Improvements
PagerDuty: We're now offering the PagerDuty without the need for a special license. The PagerDuty cartridge allows you to set up alerts and notifications for your database performance metrics and incidents, helping you stay on top of any issues that may arise.

Databases Global view: We've enhanced the Databases Global view to support SAP HANA, Redis, Redshift, and Snowflake databases. The Global view provides a high-level overview of your database infrastructure, allowing you to quickly identify any performance bottlenecks or issues across your entire environment.
Security Enhancements
The FglAM installer for Windows platforms is now created at build time, signed with the Quest certificate during the build, and included with the product. This enables users to download an executable that they can verify has been produced by Quest and can trust, improving the security of the installation process.

To further enhance security, the default encryption algorithm used by Foglight has been updated to AES-256. This provides strong encryption for your database performance metrics and other sensitive data.

Foglight also includes an update to the Java JRE to version 1.8.0_352. This ensures that you're using the latest version of Java and can take advantage of any new features and improvements.

Finally, we've updated various third-party libraries used by Foglight, ensuring that the product is up-to-date with the latest versions of these tools.
We're committed to providing you with the most reliable, secure, and up-to-date database performance monitoring tools available. With these updates, we're confident that Foglight will continue to be the go-to solution for organizations looking to optimize their databases and infrastructure environments and ensure that their systems are running smoothly.
Foglight for Databases
One of the most notable new features is the addition of latency alarms to monitor Availability Groups (Always On). This allows users to set up alerts and notifications for any latency issues that may arise, helping to ensure that their systems are running smoothly.
Another major update is the ability to use an OS non-administrator user for monitoring SQL Server. This provides an additional layer of security and helps to ensure that the monitoring process is as safe and secure as possible.
Summary
Foglight for Databases version 6.3 has been released with several new features and enhancements.
Query Insights is a new feature that allows users to analyze SQL query performance and identify issues such as long-running queries or queries that return a large number of rows.

The New Audit Log dashboard provides improved visibility into database activity and changes made to user security settings, rules, schedules, and registry variables.

Several improvements have been made to the user interface, including a new layout and improved search functionality.

Security enhancements include an updated default encryption algorithm to AES-256 and the ability to use an OS non-administrator user for monitoring SQL Server.

Foglight for Databases continues to provide comprehensive monitoring and performance management for various database platforms, including Oracle, SQL Server, MySQL, PostgreSQL, and more.
For more information about Foglight, please visit https://www.quest.com/foglight.