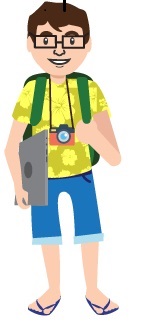 I'll admit, the concept of the DBA workaholic used to be an oxymoron. Not too long ago, many of us worked strictly in "Oracle shops" where we had time to indulge our photography hobbies in between tasks. I don't know about you, but I used to do a fair amount of photo editing during my 9 to 5. Most days… I could even take a lunch. *Audible gasp!*
Today, the thought of a single-platform database environment is laughable. Now, we're juggling an insane amount of new technologies like cloud databases, more instances than ever and we've got an even wider network of users relying on us to ensure peak database performance. I mean, have you seen this DBTA report on all the new challenges in database administration? It's nuts!
With all that pressure, it's no wonder we're taking less time off.
Only 57 percent of Americans use all their vacation days, according to Business Insider. Which is crazy, considering the average employer only provides two weeks a year. Listen, if we can't even take a couple weeks – in a whole entire year? – think of all we're missing out on!
Life is all about making lasting memories.
We could all use more time having fun with the ones we love. Got kids? You have to hang with them now, before they go off to college – everyone swears that day comes in the blink of an eye. And your significant other? Wouldn't you love to have more time to reconnect? Let's not forget all the pets out there. When was the last time you got to spend the day at the dog park, showing your most loyal companion some love? Last, but not least, think of yourself. You know you deserve more time to indulge your hobbies and passions. And you know doing all these things would make you a happier, healthier person, probably even a more focused and refreshed DBA.
So why aren't DBAs getting more R&R these days?
I'll tell you why. It's the same reason I came in early and left late nearly every day last year: database administration is now so complex and so full of potential risks, that not being there to identify and rapidly resolve database performance issues could be catastrophic. But you know what else would be catastrophic? Never getting enough time off work to do what you enjoy.
So how can you put some healthy distance between you and your desk – without sacrificing job security?
The secret, my friends, is all about using technology to your advantage. How cool would it be to know you had software picking up your slack when you're offline? How much more relaxed would you feel in your time off if you knew you'd reliably receive alerts should urgent issues actually require your attention? How nice would it be to know you could check in if you felt like it, monitoring the health of your database environment at a glance, but feeling comfortable that you didn't have to?
That's some serious peace of mind.
Let me tell you, it's been a game changer for me. I'm sneaking out early, heading to baseball games before traffic and planning more trips than a millennial on unemployment. And it's all because Spotlight® has me covered. What's Spotlight? It's basically my work surrogate. It helps ensure peak database performance and lets me monitor databases anywhere, anytime, on any mobile device. Cue George Michael's "Freedom." Not a Wham! fan? Not the point. The point is, you can get the Spotlight app and get back to enjoying life.
No more of this DBA workaholic business.
You deserve the free trial that'll give you the chance to get out and enjoy this beautiful world – without worrying about your database environment. If there's one thing I can tell you from my personal experience, it's that you won't regret it. So what's next for me? A road trip up the California coast, the sparkling Pacific on my left and the multi-tasking Spotlight app on my right. And, yeah, maybe I will be blasting some sweet eighties tunes on the way. Don't judge.
Just enjoy the ride.
Get your free Spotlight trial today. Then, book your next trip tonight. I can't wait to read your comments. I'm dying to hear about all the parts of this planet you get to explore – with Spotlight by your side.