It's time once again for Infosecurity, 14-15th November at Javits Convention Center in New York!
Join us at booth 2001# for a chance to meet Nick the IT Ninja.
We are looking forward to meeting you and talking through some endpoint management challenges you may be facing around securing your network.
We will walk you through how Nick tackles these challenges head on. We are seeing a lot of our customers struggle with the following:
Endpoint visibility – off the back of Bring Your Own Device (BYOD) & Internet of Things (IoT), getting visibility into what endpoints are on your network from servers to Windows-based computers, Mac-based computers, Chromebooks, mobile devices and a wide array of connected, noncomputer devices, is a challenge.
Security – for every device that connects to your network, there is likely someone out there trying to figure out how to use that connection to access your institution's data via malware, ransomware and other methods.
Meet Nick, take a pic and get the T-shirt! Spin our swag wheel and be in with a chance to walk away with a KACE headband, bouncy ball and more. Also enter our raffle and be in with a chance to win some exciting prizes.
Check out the Nick the IT Ninja video to get a sneak preview on how you can become an IT Ninja with KACE.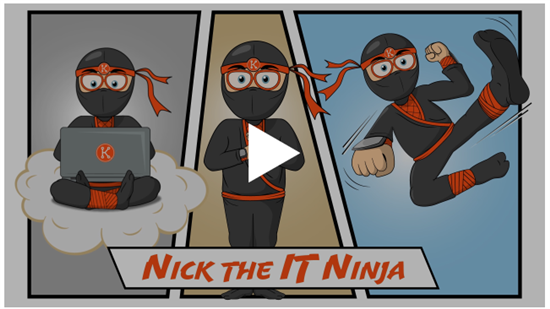 Join us in booth 2001# to learn how KACE solutions make it possible for you to:
See all endpoints – get visibility into your network with automated discovery and inventory.
Protect all endpoints – secure your network with up to date patching and vulnerability scanning.
Learn more about how Jon Cunningham from Walker Consultants, puts his CIO at ease with KACE.
"My CIO loses sleep over security as he believes that you are always either going to be hacked or you haven't been hacked yet. I can put him at ease with the KACE SMA, showing that everything patching-wise is up to date. Also everyone has anti-virus software. With KACE, I can easily pull a report to get a status and be confident that everyone is covered''.
Each challenge comes with its own IT project to manage that absorbs time and resources. KACE helps you save time by automating patch management, vulnerability scanning, image deployment and mobile device management with the following solutions:
KACE Systems Management Appliance (SMA) automates complex administrative tasks, making it possible for you to inventory all hardware and software, patch mission-critical applications and OS, reduce the risk of breach, and assure software license compliance.
KACE Systems Deployment Appliance (SDA) makes it possible to quickly and easily automate large-scale system deployments while simplifying migrations of multiple operating systems. If there is a suspicion, that malware has infected an endpoint, you have the ability to re-image the endpoint quickly.
KACE Cloud Mobile Device Manager (MDM) simplifies mobile endpoint management, so you're able to protect your organization's investment in both Android and iOS mobile devices while simplifying device configuration and deployment. If a mobile device goes missing, you can lock that system and wipe the data ensuring that your company information is safe.
One to one demonstrations: You will also have a chance to talk to our KACE product experts around the security challenges and get an in depth view of how KACE can help you address these issues and save you time.