Your company decided to start issuing iPhones to employees. It is simple, right? Head down to the Apple store and purchase phones. You issue the cell phones out and all is going great, for a time. You have an employee; we will call him "Bob", who leaves under less than amicable circumstances. Luckily, "Bob" returns all his company issued equipment. Reimage his laptop, check. Reset his iPhone, not so fast. Looks like "Bob" has used his iTunes account to setup the device. You have just discovered the iPhone Activation Lock.
Activation Lock is actually a good thing when used appropriately. It helps protect a user's device and information if the device is lost or stolen. Unfortunately, if you do not have access to the username and password, that high tech device has just become a digital brick. A very expensive brick at that.
Fortunately, with KACE Cloud Mobile Device Management (KCMDM) and Apple's Device Enrollment Program (DEP) there is a solution. With KACE Cloud Mobile Device Management, you get complete control over that device, and prevent lockouts in the first place.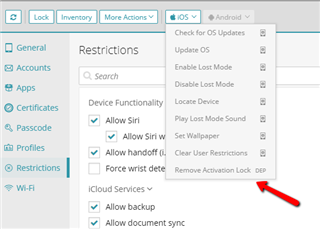 KACE Cloud Mobile Device Management has many features for managing mobile devices, either IOS or Android.
Provision Email
Wi-Fi Settings
Provision Apps
Support BYOD or Company Owned Devices
Remote Factory Reset
Lock device
Device Inventory
Clear and set Passcodes
Configuration Restrictions
Not only can you keep from being locked out, you gain control over your mobile devices. Do you already own a KACE Systems Management Appliance (SMA)? You can pull your mobile device inventory into the SMA. This allows you to work from one dashboard managing all your devices.