The latest version of the KACE Systems Deployment Appliance (SDA, formerly the K2000) system imaging application is now available, with new and updated features for faster and easier systems imaging.
Quickly and easily perform initial provisioning and ongoing administration of system images and driver updates across diverse hardware platforms — reducing operational costs and ensuring end user productivity. The KACE SDA automates large-scale system deployment and simplifies migrations of multiple operating systems, reducing administration time and allowing IT staff to focus on other high priority projects. In fact, our users have reported the KACE SDA can speed their image deployments by up to 40%, with the KACE multicast feature.
KACE SDA 6.0 brings increased usability, control and reporting functionality to image. New features and functionality include:
New, flexible user interface: Users are no longer locked into a standard white user interface. Choose white, dark or hybrid themes to fit your style and improve ease of use.
Task grouping: Users can save time and reduce errors by grouping multiple tasks into a single action, then apply the group of tasks in a single action to any deployment, scripted install, or a custom deployment. Or group tasks together as one item for greater automation.
Custom deployments: For even more control, custom deployments allow the user to apply tasks to the workstation without pushing an image or scripted install. Also includes an offline user state for standalone tasks.
Expanded reporting: Users can now generate reports in .pdf, in addition to .csv and .html files.
For more on imaging and OS deployment, check out our eBook, "OS Management, Deployment and Update".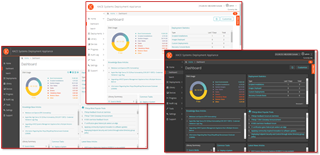 New UI themes include dark, light and hybrid environments.
Save time with automated imaging, deployment, and management while reducing cost and being more efficient. Try a Free Trial of KACE Systems Deployment Appliance today!