We are very proud to announce the release of the newest version KACE Systems Management Appliance (also known as the K1000). This release represents a significant update in look, feel and functionality of KACE SMA and is the result of not only a lot of hard work from the KACE team, but also a lot of input from our customers. We take a lot of pride in our ideation process and the input from our customers, and this release is a great example of how that process helps us design, build and present the best possible products.
Over the past few months, we executed a beta test of KACE SMA 9.0 with 35 customers and the feedback has been great. More than one beta tester reported that this is the "best update Quest has made since before the merger." Some beta tester comments can be seen on ITNinja. In particular, Duncan Bennett of Naim Audio in the U.K. posted an excellent breakdown of the updates here. To quote Bennett:
"From a personal note, it's good to see Quest taking some proper steps forward. If this is the kind of improvement we can see in a Major Version update from now on I'll be delighted."
So what exactly is new in KACE SMA 9.0? I will include a list of updates below, but one of the most talked about updates is the user interface update. New widgets and dashboards certainly make the everyday use of KACE SMA easier, but the ability to change the theme of your environment has garnered a lot of attention. Now, users can choose between a light, dark or hybrid theme, making day to day use easier on the eyes. It may be simply aesthetic, but at our UserKon conference this spring, this update brought the loudest cheer among attendees!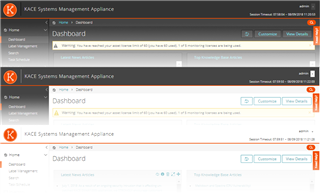 What else?
New Features
1. Service Desk and User Console:
Automated Service Desk ticketing now allows certain alerts to automatically create new Service Desk tickets.
Users can approve or reject tickets through email, eliminating the need to revisit the SMA interface
2. Asset Management
Quickly and easily detect and take action to remove seldom used software while improving efficiency with the powerful Software License Harvest Assistant.
Customize your software catalog and only see what's important to your organization by restricting what items are considered licensed software in License Compliance, including .NET. Spotify, Solitaire, VSphere Client, and other applications.
3. Endpoint Communications
Perform inventory, scripts, managed installations and additional actions just like other Linux distributions with thanks to integrated support for Raspberry Pi/Raspbian Linux Agent.
Start custom machine actions via a designated computer in a remote subnet using the new Agent Relay Tunnel.
4. Platform and Infrastructure
Gain greater system user management and added security with two-factor authentication.
Get a global view of events thanks to the common calendar, and ensure timely deployment and management of installs, patching, scripts, updates and OVAL.
For more information about KACE Systems Management Appliance visit our website. New to KACE SMA? Download a free trial. Current customer? Update your solution through the support portal.
If you'd like to learn more about Service Desk solution, check out the white paper, "The Ten Key Features You Need in a Service Desk Solution".