Meet Nick, an IT administrator. Nick likes video games, superhero comics and camping on the weekends. Lately, he's been struggling with work/life balance, especially when it comes to managing the numerous endpoints that have access to his company's network and data that resides there. For Nick, this is a growing issue, and the challenges of managing endpoint growth have become less of a quick fix and more of a full-time job.
He knows that endpoint growth isn't going taper off anytime soon since his company has implemented a bring-your-own-device (BYOD) program and embraced Internet of Things (IoT) technologies. It has his head swirling just trying to imagine how he is going to tackle cyber threats, systems downtime and license compliance standards when he's already stretched thin trying to manage his day-to-day workload. Nick is definitely feeling the pressure – and he's about to hit a breaking point.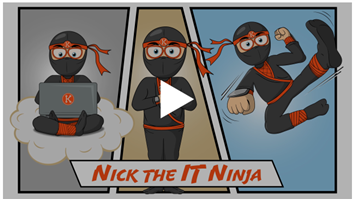 Nick's path to IT enlightenment wasn't easy. While searching for a better way to manage his endpoint challenges, Nick found a solution that gives him complete control of his IT environment and peace of mind. With KACE, he now possesses mysterious IT powers thanks to a single solution that makes it possible to achieve unified endpoint management. These powers include:
Vision – Gain insight into all connected devices and software on the network
Tranquillity – Peace of mind that all devices meet license compliance standards
Security - Protect all endpoints with the timely deployment of patches and updates
Time – Automate manual tasks and eliminate error-prone, manual processes
Change – Quickly provision, image, manage and secure assets across every platform
Thanks to KACE, Nick is now an IT Ninja who strikes first and swiftly cuts down the dark forces that can threaten IT environments. And when his work is done, Nick is able to quickly fade into the shadows, knowing that a job well-done means a quiet, less chaotic office - and a day that actually ends at 5pm. Nick is able to reclaim a work/life balance – and now works to live instead of living to work!
Check out our Nick the IT Ninja Video to see how Nick transformed from an IT administrator to an IT Ninja.
Register for our webcast, "How Nick the IT Ninja Masters Unified Endpoint Management (UEM) Challenges" on November 21, 2018 to find out how KACE help you can become an IT Ninja.