I'm getting our 5th instance of Foglight set up and SQL PI is proving to be difficult to get running. I'm going into detail to hopefully answer questions ahead of time.
My set up: (the specs here are the same on my previous 4 Foglight instances which work fine)
Database Server
Management Server
Agent Management Server
When I add a new server to this instance to be monitored, through the "Monitor -> SQL Server" wizard, this is what my initial screen looks like before I click "Monitor"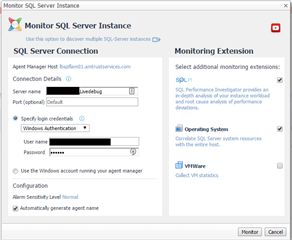 When I click "Monitor" things go through with no problems. I've done this over 50 times so I know the drill.
It then gets to the following screen & this runs for ~10 minutes before throwing an error:

This is the error I get after about 10+ minutes of spinning: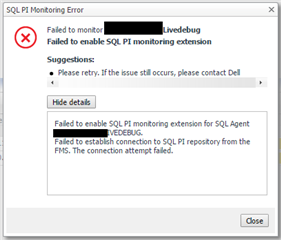 Now I could contact Dell but I don't give up that easily.
I add the server but without SQL PI. That works with no problems.
I go into the administration section of the server to try to add SQL PI manually but immediately notice that there isn't a repository host attached.

(I apologize for the tiny jpg. This is actually very easy to see but it appears the editor shrinks it down. But under "SQL PI Repository Host" it says "No SQL PI repository attached".)
So I attach our repository host using step #1.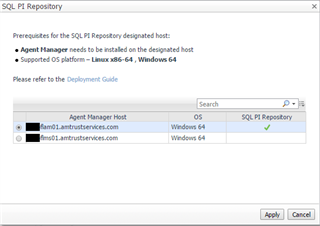 When I click "Apply" it now shows up under the "Repository Host" column.
I select the server to have SQL PI enabled & click the "Enable" button.
It goes through its procedure that I'm familiar with and again, for 10+ minutes it sits and spins at this box:

After the customary 10+ minutes it errors out & says:

(The error says "Failed to enable SQL PI monitoring extension")
I've reconfirmed all rights to the servers & they are the same as they are on the other 4 I set up with no problems.
Now before I contact Quest for this, is there a log I can dig into to find out why this didn't enable? Or is there something I can look at to find out what needs to be done? I've used this procedure several times and know it works & I am familiar with it. It would just be nice if Foglight offered some decent error logs or why something doesn't work. Instead you are forced to go hunting.
Thank you for reading this far. Hopefully if this gets fixed here, it will help someone else as well.