Beginning with release 12.3, NetVault supports StarWind Virtual Tape Library (StarWind VTL), which converts
physical drives into virtual tapes to emulate tape hardware. It supports standard uplink protocols, including SMB3,
NFSv4.1, iSCSI, and works with most virtual environments.

StarWind VTL is available on Microsoft Azure Marketplace, on AWS Marketplace, and as on-premises appliance
NetVault supports public and private cloud object storage replication with StarWind VTL through any of the
following storage service providers:
• Amazon S3 and Amazon Glacier
• Amazon S3 Compatible
• BlackBlaze B2 Cloud Storage
• Microsoft Azure Cloud Storage
• Wasabi Cloud Storage
StarWind Virtual Tape Library (VTL) is also software solution that allows you to emulate physical Tape Libraries while storing data on the hard disk drives. The solution targets companies that want to completely quit using the physical Tape Library, as well as simplify and accelerate the process of data backup and recovery.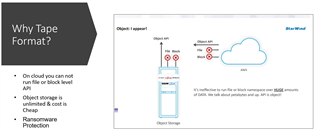 Here is the Demonstration of how Netvault integrates with Starwind VTL, Also Visit the KB ( https://support.quest.com/netvault/kb/326276/demonstration-configuring-starwind-vtl-to-netvault )