Happy Hump Day Partners!
We have some exciting news to share. Quest is now the one and only sponsor of the Office 365 for IT Pros Ebook, which contains the most hands-on, practical and up-to-date insight on Office 365 written by a team of highly experienced MVPs.
Sponsoring this Office 365 for IT Pros Ebook is a BIG DEAL for Quest and YOU partners. There are thousands of PAID subscribers that receive monthly updates about anything from Teams to SharePoint Online to Power Apps. I think the important point is WHO these paid subscribers are: they come from the largest enterprise tenants, so they're a prime audience for Quest.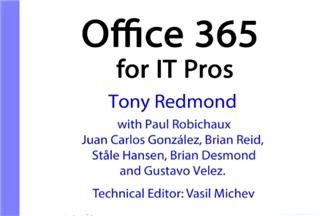 What is this Ebook?
Think of this Ebook as like a user manual or admins guide to managing Office 365 every day. Throughout its 25 chapters and 550,000 words, the Office 365 for IT Pros Ebook includes in-depth instructions (including over 1,000 examples of using PowerShell) for provisioning, exploiting, and administering the many different services and features that exist within Office 365. The first 24 chapters cover a range of topics including Azure AD Identities and Authentication, Exchange Online and Mailboxes, Managing Teams, Office 365 Data Governance, EMS, Intune, Data Loss Prevention, PowerApps and much, much more. Chapter 25 is the sponsor content - that's us! More on our Quest chapter content later.
It is written by a group of Microsoft MVPs led by Tony Remond, who will return as a TEC 2020 speaker. Other MVP authors include Brian Desmond (also speaking at TEC 2020), Paul Robichaux, Juan Carlos Gonzalez, Brian Reid, Stale Hansen and Gustavo Velez.
Why is this important that it's written by MVPs and not Microsoft employees?
This book embodies an independent view that is honest and practical. It's not Microsoft giving your customers the standard pitch. It's a collection of thoughts, ideas and perspectives from a team of highly experienced Office 365 MVPs, who just happen to partner with Microsoft on engineering efforts.
Why is this Ebook so unique? Why will your customers love it?
Over the last few years, Microsoft has made thousands of changes to Office 365. That's a LOT of updates for your customers to track.
Office 365 for IT Pros Ebook is updated monthly to make sure that the content stays fresh. It is the ONLY book covering Office 365 that is constantly refreshed and updated with new information. Until the next edition is published, paid subscribers can download updated content to keep pace with developments in Office 365, which means that the book continues as a valuable reference for customers long after they first read it.
What's included in Quest's sponsorship?
As I said above, Quest is the one and only sponsor, which gives us great visibility to thousands of PAID subscribers from LARGE, ENTERPRISE TENANTS. Yes, customers are paying for this content - so they find it valuable and not some throwaway piece.
Quest gets two primary mentions in the book, along with other smaller mentions throughout the 24 chapters. The first primary mention is in the Introduction where Tony thanks Quest for sponsoring.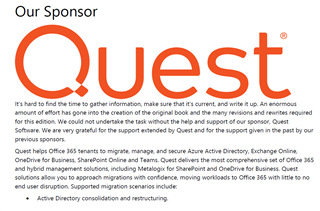 The second, and most prominent mention, is our sponsor section - Chapter 25. Our content details the challenges customers will face around Azure AD recovery and Tenant-to-Tenant migration, and shows how On Demand Recovery and On Demand Migration can help.
A HUGE thanks to the Quest SC authors - Matthew Vinton and Jeff Shahan who wrote the first chapter, and Bryan Patton and Todd Mera who will continue to update our chapter as our On Demand platform evolves.
Can I read this myself? Where do I get access? Can I send to customers?
Per our sponsorship agreement, we cannot distribute the PDF externally.
If you want to read it yourself (highly recommended for any partner delivering value-added services around Office 365), you can subscribe here: https://gumroad.com/l/O365IT.
However, we do get a limited number of free online copies that we can send to specific, strategic accounts. If you have a Deal Reg customer in mind and want to send them a copy, email Daniel.Gauntner@quest.com.