After two quarters of focusing on an unprecedented present, we at Quest are now focused on the future. We devoted much of our recent Q3 Partner Update webcast to the plans and initiatives we've launched, so I'll describe them here.
New solution focus at Quest
First of all, we're still solving remote workforce solutions because that's what our customers are asking for. And that remains the direction we're taking with you, our channel partners. Last quarter you met our chief revenue officer, Greg Randolph; this quarter we introduced our chief marketing officer, Colleen Langevin, who talked about changes in the Quest organization and branding.
With our new focus, we've put ourselves in our customers' shoes. What are they constantly looking toward? They're looking toward what's next — specifically, the next migration, platform and threat. So the new solution focus at Quest looks like this:
Top of mind for our customers:

Quest approach:

Manage

Modernize

Secure

Quest business unit:

Infrastructure and Systems Management

Platform Management

One Identity

Solution areas included:

Database performance monitoring

Database development

Data preparation

IT infrastructure monitoring

Inventory and asset management

Endpoint security and software compliance

Hybrid Active Directory

Office 365

Mergers and acquisitions

Platform migration

Backup and recovery

Identity governance and administration

Privileged access management

Hybrid Active Directory security and management

Endpoint security

Backup and disaster recovery
Colleen explained that the new solution focus coincides with a brand refresh at Quest. The refresh includes a new look and feel at Quest.com that you'll also see the next time you visit the visit the Partner Portal.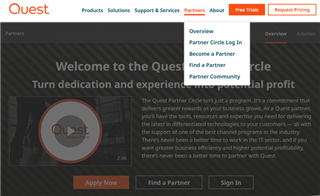 Again, looking at things from our customers' point of view, we've changed the Quest tagline to "Where Next Meets Now."
The Quest story is that we enable the solutions that our customers need not only for today's problems but also for what's coming next. Whether it's the next migration, platform or threat, we've seen that the Next is continually meeting the Now, and that's how we arrived at the tagline.
The brand refresh extends to other areas you'll see in the months ahead:
New corporate templates
New corporate messaging guide
Refreshed brand guide and brand intranet
New solutions messaging
Endorsement model for sub-brands (Foglight by Quest, KACE by Quest, One Identity by Quest, etc.)
Starting from that focus and branding, we're now working on delivering campaigns for the channel as closely as possible to our internal campaigns. As we update messaging and materials for each of our solutions, we'll make them available to you through the Partner Portal.
State of the Business – Channel
Although demand has slowed in the second half of 2020 (especially in sectors like retail, food, hospitality and some manufacturing), the pipeline is still strong. We're seeing that companies are still willing to spend on remote workforce enablement and workplace security.
Last quarter Todd mentioned the 88% year-over-year pipeline growth we'd seen compared to 2019, and since then that has increased to more than 100% YoY pipeline growth. Here are a few examples based on the Remote Workforce campaigns we kicked off in the spring:
Information and Systems Management — The demand for KACE as a service was up 11% YoY in Q2 and up 306% in Q3.
Platform Management — The trend toward working remotely has made Active Directory management a priority. Pipeline creation for Change Auditor and associated compliance management products grew 22% YoY in Q2 and 300% in Q3.
One Identity — The sales pipeline for Active Roles was up 22% YoY in Q2 and more than 300% in Q3.
You too can ride this wave from our Partner Portal. As Mylène Legresley described, you'll find Campaigns in a Box with everything you need to position Quest as a trusted solution provider for managing and securing a remote workforce.
Take advantage of our playbooks, call scripts, white papers and enablement activities for getting your engineers trained on Quest products. To access these Campaigns in a Box, go to the Quest Partner Circle and look in the menu under "Marketing."
Quest Global Channel update
We have added a Global Channel team. Its goals are to ensure that sourced revenue ends up benefiting you the most and to accelerate all the activities related to sourced business. It will be in addition to our continuing sales support from your regional channel team and continuing channel marketing support regionally.
Global Channel represents new investment in several areas:
Accelerating your deal registration activities across all three of Quest's business units
Developing a Managed Services Provider program that's easier to do business with
Providing new hands and feet to help you with demand-gen activities and take the message to your customers (we doubled the size of our channel marketing organization over the summer)
Partner Circle 3.0
Developing regional and global partner councils to plan for the future (contact Todd if you want to participate in the councils)
On October 7 we'll host a webinar in which the Global Channel Team will show how you can get the most out of the resources they make available.
Looking ahead for our partners
It's important to us to have you, our channel partners, on the same page with our new branding and strategy. It helps you build demand into the future.
Todd mentioned last quarter — and Colleen echoed it this quarter — that channel-sourced growth is top-of-mind stuff for us. As you discover enterprise sales opportunities like remote workforce enablement, let us know and we'll help you build and close the leads.
Move forward with your Q3 plans as is. Don't lose momentum. As you already have campaigns and demand-gen initiatives rolling, keep going with them during the transition to our new solution focus. All the solutions in the business units still have the same names, brands (Toad, SharePlex, KACE, etc), engineers, product marketing and people. Stay on top of the real, live demand that's out there right now, even as you internalize the vision we're articulating.
We're adding more channel account managers. Nevertheless, count on our structure of sales and marketing support for partners — including your CAM — remaining the same.
Your customers will see the new site and branding, so it's to your advantage to use the messaging they'll be seeing. Go to www.quest.com/partners for our new corporate pitch deck and to see how we've laid out our offerings.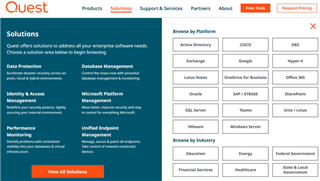 Look for new partner campaigns on the Quest Partner Circle soon. We'll be rolling out new playbooks, battle cards and incentive plans in the coming months.
Q&A
As always, Todd answered questions near the end of the webcast, including these:
Q: What's the status of One Identity?
A: As Colleen mentioned, the One Identity portfolio is an important part of our Secure focus. We have a lot of partners building their security business around One Identity, so the brand, website and property are staying where they are. We're highlighting other Quest solutions to support the Secure focus, of which One Identity is the mainstay.
Q: Where can I find battlecards for ISM solutions?
A: In the Marketing section of Partner Circle, you still have the three areas around KACE, data protection and information management with the current materials. Look for upcoming playbooks that will help you tie together the stories of those solutions and sell more.
Q: Where can I find information on selling Microsoft's and Quest's products?
A: Under the Remote Workforce Campaigns in the Partner Portal we have a Microsoft section.
Q: For managed service provider programs, I don't see many resources in the portal.
A: We're investing a lot in this global initiative. Not just to beef up the content in the portal, but also how we go to market with you around managed services to make it easier to do business. Colleen and her team will work on how we market managed services on cloud platforms, and we'll work with the channel partners to build a common program with incentives, enablement and support. Then I'll work with our IT group on the platform to do what's needed for you to transact subscription revenue.
Q: Will rebate targets and business plans move to the new business unit layout?
Over time, they will move toward those business units, especially as we go into next FY. When you have things in flight, you already have the momentum and you don't want to slow it. We don't want to disrupt your work with your channel account manager between now and the end of 2020. As you develop new pipeline, new initiatives and new deals, then Where Next Meets Now will be your pitch. Count on new business plans and targets next year.
What's next?
What do we want from you? Feedback! As we come into the final quarter of the year, let us know which activities you need from us to increase your bookings.
And don't forget to register for our Global Channel webinar on October 7 Our new Global Channel team will show you how to use their resources for maximum advantage.