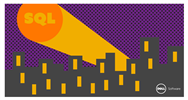 Last week we reviewed the first critical step to SQL Server database management – assessing your current environment to develop a map guiding a management overhaul. Having the most comprehensive view of the database helps inform design and decisions on backup and recovery policies – the second essential step in optimized management.
SQL Server features high-availability capabilities including:
AlwaysOn Failover Cluster Instances: Provide server-instance level redundancy
AlwaysOn Availability Groups: Enterprise-level solution to maximize availability for one or more user databases
Database Mirroring: Increase availability of a SQL Server database by supporting almost instantaneous failover.
Log Shipping: Functioning at the database level, provides automated backup and restore.
Want to get your SQL Server environment to work for you – instead of the other way around? Click here to download the "The Essential DBA Playbook for Optimized SQL Server Management."
Since high-availability capabilities exist, some DBAs get tripped up thinking disaster recovery is covered as a result. This is a common misconception.
In actuality, high availability and disaster recovery are not synonymous.
High availability refers to the processes put in place to ensure applications and services running on a database remain up, while disaster recovery refers to retaining the data within SQL Server in the event of an outage.
The need for a disaster recovery prompts DBAs to review their backup and recovery strategies. Backup and recovery go hand and hand. There is no way to simply implement a recovery strategy, which typically takes a lot of effort and a multi-phase approach, without first assessing backup processes. Download the "The Essential DBA Playbook for Optimized SQL Server Management" to learn more.