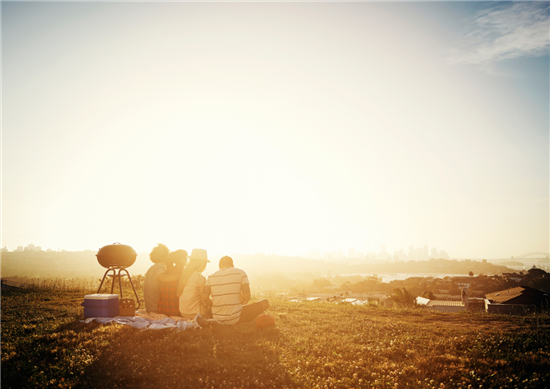 Today is the first official day of summer and people are starting to get geared up for many warm weather activities. While your kids are on summer break, you'll probably spend more time with family and friends. As the days get hotter and the nights get warmer, now is the perfect time to soak up some Vitamin D, spend some time away from work, and have a nice cold beverage.
How ever you decide to spend your time, here are five summer essentials to get you through the long, hot days, especially while you're out on vacation:
1. Sunscreen
No one likes a bad sunburn. Sunscreen is extremely important to protect your skin from UV rays, which can have long-term effects if not treated properly. Wearing sunscreen will ensure your skin is protected from sun damage and you won't need aloe vera at your bedside.
2. Sunglasses
Find a nice pair of sunglasses to shade your eyes from the blinding sun. This will ensure visibility to your surroundings when you go hiking or when you fire up the grill. Did you know your eyes can get sunburn too?
3. A comfortable wardrobe
Put away the sweaters and pull out the polo shirts. Shorts, swim suits, sandals/sneakers, and a hat are all a must if you are planning on some outdoor activities. It's never too late to inventory what items you have, need to replace, or simply get rid of.
4. A beach bag or backpack
Whether you're going to the beach or going to a theme park with the kids, a bag or backpack will take you far. Fill it up with everything you need so you know what's on hand, and you'll be set for the day.
5. The right gadgets
If you're planning a pool party, barbeque, or a camping/fishing trip, you're going to need the appropriate gadgets. Goggles and pool floats to swim, a cooler for food and drinks, bug repellant spray and a camp lantern, or some travel apps would make your life easier. Make sure you prepare ahead of time so you don't forget an essential part of the plan.
6. A clean makeover (bonus)
Shave off that winter beard, clean up that hairdo and look fresh all summer while you're at the beach or hitting the pool. Be careful of tan lines!
Summer feels like a much slower time, but I say this every year: Where did summer go? Fortunately, you won't have to stress about work while you're away because KACE has it under control, and can be another one of your summer essentials. KACE systems management appliances can provision, manage, secure, and service all of your network connected devices so you can focus on spending time with your family instead of being trapped at work. Relax — it's time to make summer memories, and let KACE appliances handle your systems management chores.