So you're thinking of upgrading to SharePoint 2013. We all know the benefits. Blah, blah, blah I don't need to do Microsoft's job and evangelize what we already know about social, the app store, search, etc. Its all cool. You just get it. But do you just get what it takes to manage this new 2013 environment? Do you know what 2013 provides natively in terms of reporting, security, storage management, backup and recovery and user adoption?
Let's put it another way, managing SharePoint 2013 natively is a lot like managing a brand new puppy.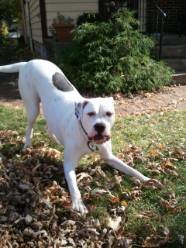 In fact, here are my top five ways SharePoint 2013 management is a lot like managing a new puppy:
Reporting: Puppies pee all over the floor and it dries before you can figure out where it happened, just as SharePoint content gets propagated hither, thither and yon across SharePoint without any good native user or content reporting.
Security: Puppies have never met a stranger they didn't lick and immediately let into the house and neither has your SharePoint.
Storage Management: Puppies put on weight and get lazy when you give in to their cute puppy eyes and feed them table scraps, just like SharePoint packs on the pounds and slows down with increased usage.
Backup and Recovery: Puppies love to hide their bones, but they're loveably dumb and lose track of their hiding places, just as SharePoint loses data and you can't figure out which backup you need.
User Adoption: Puppies don't learn to sit, lay down or speak without assisted encouragement (a.k.a. treats) just like SharePont users can't break the cycle of collaborating via Outlook to collaborate via SharePoint.
I'm totally a dog lover (in fact the lovable pooch seen in this post belong to yours truly) just as I am a fan of SharePoint 2013. But just like bringing in a new puppy into your house, you need to know what comes natively with SharePoint 2013 management and where third party tools, like those from Dell, come in to assist!
Chris McNulty (@CMcNulty2000), Quest CTO, has prepared an excellent webcast to review what you can expect to get with SharePoint 2013's native management functions and where Dell SharePoint solutions for management fill the gaps. Check it out here and sign up today!
Choosing the Right Tools for SharePoint 2013 Management
Type: Webcast Date: Wednesday, May 1, 2013 Time: 2 p.m. ET/11:00 a.m. PT
Organizations are finding compelling reasons to adopt or upgrade to SharePoint 2013. The platform includes a variety of new and enhanced functionality for end users, but many organizations are still unsure how to manage the new platform. In this live webcast, Chris McNulty, Quest CTO, will explore several tools that make SharePoint 2013 management easier than ever before.