You 've probably seen the latest news that vRanger 5.3 is now generally available , and in this post we'll take a bit of a deeper dive into some of the enhancements our customers have been talking about.
First, let's look at speeds and feeds. Our engineers have worked hard to squeeze even more performance out of vRanger in three ways. First, we optimized parallelism in overhead operations such as identifying identical blocks (hash creation). Second, integration with VMware's latest API (VDDK) itself has been re-architected for lightning-fast calls from vRanger – and needless to say integration with VMware's latest API gives you the latest and greatest support for vSphere 5. Third, reads and writes are better buffered, scheduled, and actively managed so that a bottleneck at one end doesn't slow down your jobs as quickly. And all the hard work paid off – participants in our beta program reported seeing backup and replication times cut in half or more.
Snapshots – do you love them or hate them? Either way, they're here to stay and you'll have to deal with them. In vRanger 5.3, we've enhanced our replication to support user snapshots. vRanger will automatically merge the snapshot tree on the source VM to the target VM. As an example, looking at the figure of a snapshot tree for the source VM below, if ss2 is your current snapshot, it will automatically be merged to the destination disk at the target.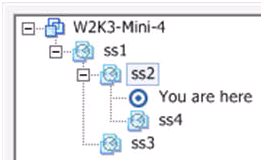 Our customers really like our integrated native catalog search, and we listened when they told us how we could make it even better by adding more flexibility through wildcard searching. You can now use the '?' and '*' wildcard characters when searching the catalog. As is the standard in string matching, the '?' character will match only one character, and the '*' will match any number of characters. You can mix and match these wildcard characters as well. This can be a huge help and save you boatloads of time when you don't have exact names, or you're looking for several items with similar names.
We constantly look to our customers to improve our product, and there are lots of other tweaks we made in vRanger 5.3 based on that feedback that we simply can't cover here. One of the most exciting new capabilities in vRanger 5.3 though, is the ability to integrate with Quest's enterprise-grade deduplication technology. We'll take a deeper look at this shortly in an upcoming blog post, so stay tuned – and in the meantime, give vRanger 5.3 a spin to see for yourself what everyone's talking about if you haven't done so already.