Today we announced it has successfully integrated two of its most powerful technologies: The DR Dedupe Appliance & NetVault Backup.
With the latest system update for the DR family of deduplication storage appliances (v2.1) and NetVault Backup v9.2, users will see tighter integration between the two solutions making it easier to streamline their backup operations. And they can take advantage of source-side deduplication and optimized replication capabilities, enabling them to maximize storage savings and reduce network bandwidth requirements.
The improved DR Rapid Data Access (RDA) plug-in allows NetVault to retain end-to-end control of all the backup tasks, while delegating control of storage management to the DR4100 appliance. NetVault orchestrates when data is backed up, when it's copied, and when it can be expired. The DR4100 determines how the backup data is stored and copied between storage appliances.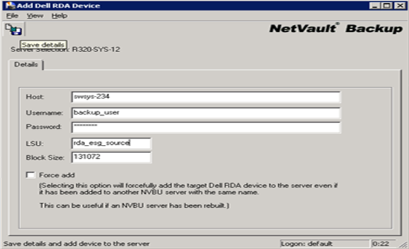 "We have limited IT staff and had been using a hodgepodge of backup methods that were unreliable and required a lot of manual intervention," said Scott Millis, chief security strategy officer for ISC8, a leader in cyber-security technology. ISC8 recently purchased NetVault Backup to protect its Windows, Linux, and Mac OS X systems and will be using the DR4100 as a storage target.
"ISC8 was looking for a solution that would allow us to streamline our backup operations and meet our RTOs and RPOs at a cost-effective level. And we don't want to spend a lot of time on backup and recovery. We chose NetVault Backup and the DR4100 because the solution is now fully integrated. We are now able to centrally manage backup and recovery across our main data center and remote offices located in Asia, MENA, Europe, and the U.S. It's a simple solution, helping us to improve productivity and keep our end users focused on their core business functions."
Perhaps the most exciting capability is source-side deduplication. When the RDA plug-in is installed on the client, users can benefit from source-side deduplication. All of the hashing is done at the source. The hash values are then sent to the DR4100 appliance; DR4100 responds requesting the chunks not already stored. This provides faster data transfer with minimal bandwidth usage.
ESG recently put the DR4100/NetVault solution through its paces in a Lab Review. The results demonstrated that using source-side deduplication can cut the backup time nearly in half. "For target-side deduplicated backup, the average job duration was 15.75 minutes, while for source-side deduplicated backup and optimized replication, the average job duration was 8.19 minutes."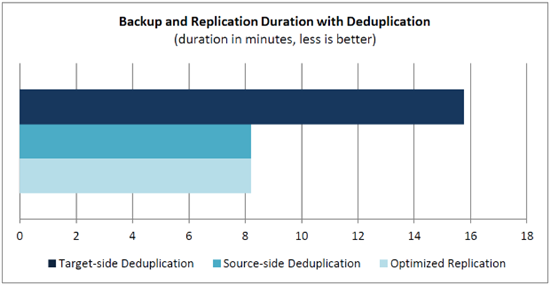 Replication is super-fast too, since only the unique blocks of data are transferred over the WAN. And the beauty is: You can initiate replication via the NetVault Console—no need to flip back and forth from one console to another. NetVault controls the replication task and is therefore automatically aware of any new copy.
This integration is yet another example of our commitment to bringing to market backup solutions that are easy to use, powerful, and affordable. Organizations get the best technology from a single provider.
Here's ESG's full report: Integrated Data Protection Solution: DR4100 with NetVault