Active Administrator version 7 was released last month, with a new focus on bringing relevant information to administrators faster. Active Administrator's DC Management landing page allows you to view multiple active tiles, which each display relevant content to describe a domain controller's status, services, performance, and event logs. You can pause, resume, and refresh the tiles as needed providing a convenient method to assess active directory servers quickly.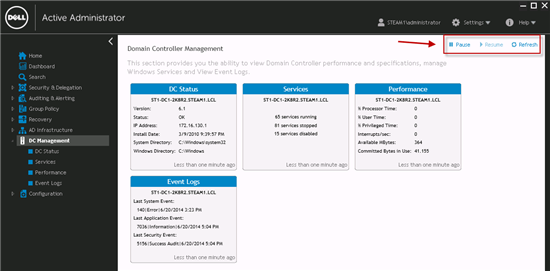 The DC status page displays important details about the selected domain controller. There are useful options on this page, such as the "Copy" icon, which allows you to copy the details and paste them into an email or document. The "+" icon will bring up the Managed Domain Controllers page, to allow you to select a domain and add or remove domain controllers. You can also select the icon to "remote desktop" into the selected domain controller, or select the icon to "reboot" it.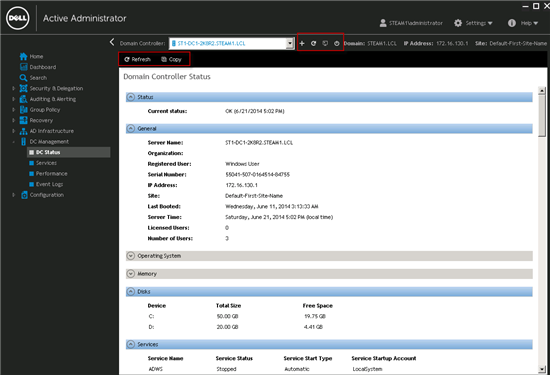 Managing a server's services can be done via the Services page in Active administrator, giving users the advantage of using the dropdown menu to manage different servers. Active Administrator provides full service management capabilities with options to start, stop, restart or pause the service. Finally, the properties icon allows you to change the startup account.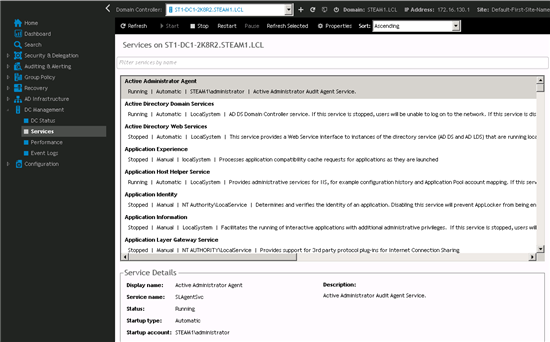 Understanding how servers are performing in the environment is key for any administrator, and the Performance page displays the information in real-time for selected counters. Users can add and remove counters, and also choose whether or not to enable or disable auto updates.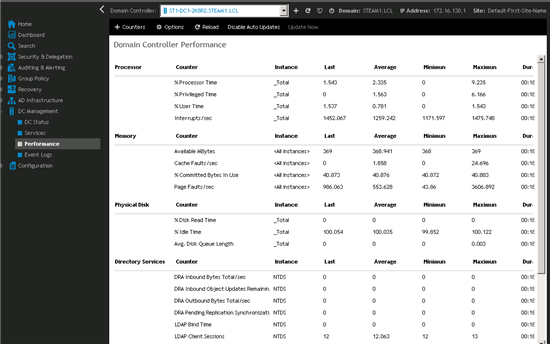 Finally, understanding what is happening with Domain Controllers is as important as monitoring their performance. The Event Logs page in Active Administrator, allows administrators to select a domain controller and choose which event log they would like to view. There is also options to copy or clear the log.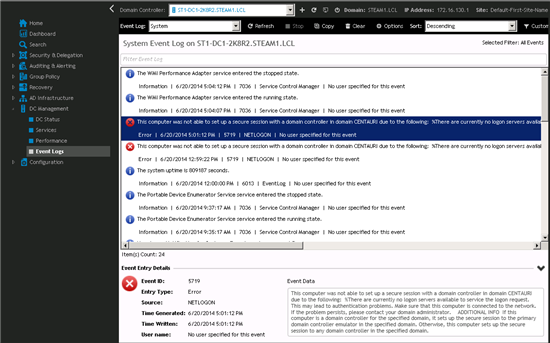 Active Administrator is a singular solution for administrators who wear many hats in their organization. One of those hats usually revolve around managing Active Directory Domain controllers. The new DC Management feature allows users to save a lot of time by giving them the ability to view DC performance and specifications along with the ability to manage services and event logs from within Active Administrator.