In conversations with our customers, we've found that AD disaster recovery planning is top of mind, but due to the lack of resources and the inability to easily set up an environment to test their plans, they're not always able to make good on their disaster recovery intentions. So, we wanted to find out if that was indicative of what most IT organizations face.
Recently, Quest commissioned Dimensional Research to survey IT professionals responsible for Active Directory (AD) to gauge their readiness for an AD disaster. With the types of incidents/disasters that organizations reported (see below), it's no wonder why AD disaster recovery planning is top of mind: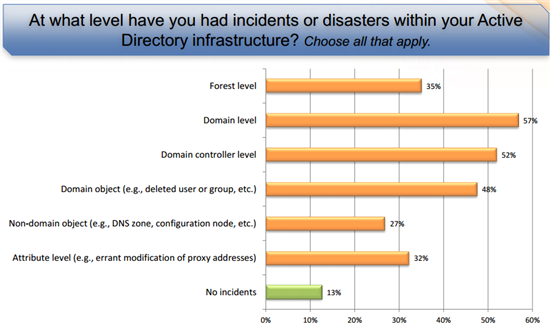 87% of survey respondents reported having AD incidents or disasters, however, less than half of the respondents indicated they have a robust disaster recovery plan in place for recovering AD in the event of failure and 45% reported they don't test or have a regular testing schedule for their plans. Another interesting finding of the survey – respondents indicated that the cost of AD downtime can soar to $5 million per hour for organizations with 2,000-5,000 employees and above $5 million per hour for organizations with more than 5,000 employees.
With the types of incidents that are occurring and the exorbitant cost of an hour of downtime, we wanted to understand the reasons why AD recovery plans are not tested on a regular basis. As you can see from the results below, the majority of the respondents report not having the resources or an easy way to set up a test environment.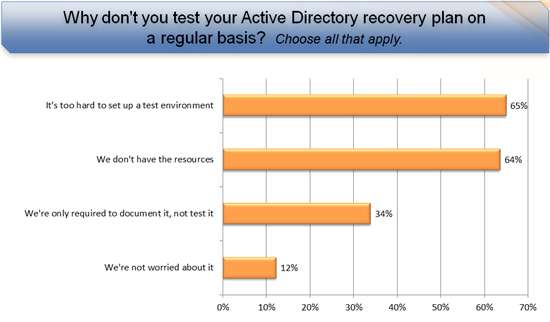 In our work with our customers, Quest recommends creating a virtual Active Directory lab that mirrors the production AD forest. This enables an organization to be more efficient in testing its AD recovery plan and have a more accurate view of how the disaster recovery plan will work in the actual production environment. Of survey respondents, 80% agreed they would be more efficient in testing their plan if they could easily create a virtual lab that accurately mirrors their production AD at the forest level.
Manual testing of AD disaster recovery plans is complex and time-consuming. With new functionality added to Recovery Manager for Active Directory Forest Edition, organizations can easily set up a disaster recovery test environment by automating the creation of a virtual AD lab that mirrors the organization's production environment. As a result, testing disaster recovery plans are accelerated providing IT with a clear view of how the plans will work in the production environment.
Recovery Manager for Active Directory Forest Edition validates AD health by watching for warning signs of possible Active Directory issues before they become disasters. In the event of a major disaster, the product automates and simplifies the recovery of a forest or domains simultaneously, quickly restoring the environment to a point in time before the corruption occurred. We recently issued an advisory outlining the results of the Dimensional Research survey and how Recovery Manager for Active Directory Forest Edition simplifies AD disaster recovery testing.