Dell's Global SAM (Software Asset Management)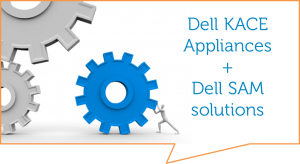 Solution Program is designed to offer customers significant value through a unique and differentiating approach. Leveraging our SAM Solution Partners to perform an unbiased, independent, objective reconciliation of our Customers Effective Licensing Position (ELP) can significantly complement Dell's Licensing Specialists.
Given the economic forces on a global to local level, and an increased risk of compliance audits, SAM has become a top priority for CFOs. Above and beyond the basic need to drive costs and risks out of the distributed computing model, mergers and acquisitions and divestiture activities are driving the need to accurately budget and forecast an organization's dynamic application utilization requirements for today and in the future.
In conjunction with the Dell Advantage Program, Dell's SAM Solution Program can go further than performing a baseline point-in-time inventory of deployed applications relative to our customer's licensing entitlements. Collectively Dell can offer additional value to our customers by offering our expertise with licensing recommendations and advice to make sure they are in the optimal licensing structure and maximizing their utilization of their End User Licensing Agreements (EULAs) and program benefits.
Beyond the tactical execution of Dell's License Reconciliation & Optimization Solution required in the renewal and annual true-up process, we can offer long term strategic Managed SAM Solutions for our customers that are designed to allow them to capitalize on their provided ELP.
In addition, Dell's Preferred SAM Solution partner, UMS (Universal Management Solutions) has been recognized for delivering more Microsoft SAM Services funded engagements than any other qualified provider across North America. Dell's other SAM Solution partner, SSS (Specialist Software Services) was been awarded Microsoft's SAM Partner of the Year at the 2012 World Partner Conference. Collectively, Dell's SAM Solution Program engaged with over 900 customers and delivered over 400 ELPs in Microsoft's FY'13.
Dell's SAM Solutions are not limited to just Microsoft. Dell is routinely engaged directly by our customers to perform Adobe, Attachmate, IBM, Oracle and other Publisher ELPs. The primary business drivers for these types of engagements range from the establishment of a Definitive Software Library (DSL) to the delivery of internal audits or assistance and support defending our customers against Publisher Audits.
Dell's Global SAM Solution Program is uniquely positioned to deliver significant value to you and your organization's unique needs. For more information, including case studies and Microsoft's SAM Services funding program, contact Dave Hunt, Dell's Global SAM Solution Program Manager (dave_hunt@dell.com).