Predictive, advanced, statistical analysis all these terms seem to be inter-changeable. Do they mean the same thing? How can they be distinguished from one another and does it really matter, or more precisely, when does it matter?
Perhaps advanced analytics simply represents the next evolutionary step in insight and taking analysis beyond the basic and requisite reporting that BI and visualization has delivered for the past couple of decades. Perhaps the best way to review the value of these terms or designations is to consider them from various viewpoints.
For the data scientist, these terms may have mathematical nuances that need exploring and understanding. Data scientists view these terms with mathematical implications that the non-data scientist may not fully appreciate. The importance here for the business persona involves proper communications with the data scientists. We need the proper understanding of how to describe the problem or the question we want tackled by the data scientist to ensure that our business explanations are preserved in translation.
On the other hand, when the data scientists share their finding, the business user that appreciates the various nuances of the math or methodology behind these terms better understands the results being presented.
During the tweet up, "#ThinkChat - Advanced Analytics - What's in your future?", we had tweet opinions shared by data scientists as well as VPs weighing in on what these terms mean to them. Perhaps worthy of a couple of highlights?
Data scientist, @angela_W says "Advanced Analytics is analytics on a consistent basis to manage the company off reality instead of someone's gut feelings. #ThinkChat"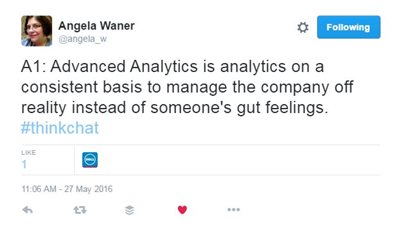 VP of Market and Strategy, @ShawnRogers said "Advanced analytics is the next level of sophistication beyond BI. taking us to predictive and prescribed insights. #ThinkChat
Let me know what these terms mean to you and whether or not you find the distinction worthy of articulating.
Looking for more from @JoSchloss? Take a look at the virtual panel discussion – "Discussion with a Data Scientist"