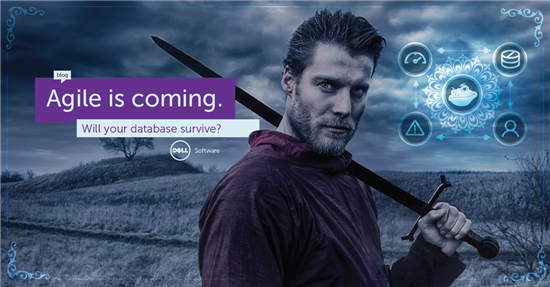 As anticipation builds for the next winter in the new season of Game of Thrones, so grows the need for your database development team to get agile. Much like House Lannister, the manual processes that currently rule the database development realm are outdated and in dire need of a drastic change.
Enter House Agile, helping development teams respond to unpredictability through incremental, iterative work cycles and collaboration between cross-functional teams. The result: shorter development cycles, lower risk and increased quality.
In my last post, I talked about the stark contrasts (see what I did there?) between application development and database development that can slow progress toward agile. But once you've accepted those key differences, how do you get your team and your database ready to realize the benefits that agile can offer?
Preparing for winter
House Stark may be fictional, but the family motto can teach us a lot about real life. "Winter is coming" is not just an expression about a long season of fighting against extreme cold and white walkers; it's also about being prepared for what's coming your way.
Moving from manual processes to agile database development is no different. It requires taking the proper precautions and using the right tools to ensure a successful transition. If you can't create reliable, high-performance database code to run mission-critical applications, it could be a threat to your database…. and detrimental to your day-to-day business.
Three ways to weather the storm
By following a few basic guiding principles, you can help set your team up to get agile — and deliver more efficient, reliable, high-quality database applications.
Improve productivity: Agile methodology enables developers to implement changes individually and continuously rather than making batch updates over long release cycles. Having the right weapons in your arsenal (that is, the right technology solutions) can help speed the review and implementation of code changes during initial development, ongoing maintenance and application iterations.
Ensure correct code function: To truly get agile, database organizations need effective integration with business strategists and users to comprehensively define requirements. After all, you can't stage a takeover without a few accomplices along the way. You also need a good plan – visualizing complex code interdependencies during initial code development can help improve understanding and minimize errors.
Increase code quality and performance: Much like assembling and training a great army that will be victorious in battle, developers must build top-quality applications that will perform well in production. Tuning and testing code gives developers an opportunity to boost application performance while potentially reducing the resources and time needed to execute.
New e-book: It's Time to Get Agile
Much like winter in Westeros, agile is coming – whether your team is ready or not. Our new e-book, It's Time to Get Agile, provides an in-depth look at battle-tested strategies and tools to help set up your team for getting agile — and delivering more efficient, reliable, high-quality code. By following a few basic guiding principles, you'll be sitting atop the database development throne in no time.