They're fuelled by instinct, the thrill of the unknown and data. They are the "Analytic Gunslingers," and when difficult decisions need to be made within an organization, they're on the frontline. Dell recently commissioned a study by the Aberdeen Group to learn more about these fearless decision makers and the analytical tools they use.
So, how does one become identified as a gunslinger? The first prerequisite is that they describe themselves as gut-driven decision makers. Next, they identify as either a risk taker, consumer of analysis or both. Those who didn't meet those qualifications were labelled "All Others" in this study.
What drives the gunslinger?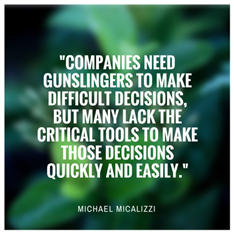 Respondents were asked what pressures, both internal and external, mold their efforts to improve analytical decision making:
Acceleration of the pace of business: 27 percent of gunslingers, 20 percent of all others
Limited time to make decisions: 20 percent of gunslingers, 15 percent of all others
Overabundance of inaccessible data: 13 percent of gunslingers, 26 percent of all others
Takeaway: Gunslingers are less vexed by issues concerning access and volume of data, and they're comfortable falling back on their own experience to make decisions.
Dissatisfaction with tools.
Respondents were asked to gauge their level of dissatisfaction with the performance of the analytical tools they use to make decisions. Answers are based on the percentage of respondents who were "dissatisfied" or "very dissatisfied" with tools:
Access to decision-making data: 47 percent of gunslingers, 40 percent of all others
Ease-of-use with tools: 47 percent of gunslingers, 38 percent of all others
Speed/timeliness of information delivery: 44 percent of gunslingers, 38 percent of all others
Takeaway: Gunslingers, who are predisposed to relying on instincts, will under-utilize tools to make decisions if they don't find value in the solutions offered. If data is used in the decision-making process, they should have it at their disposal quickly.
Tools to drive faster decision making
Respondents were asked about the kinds of tools they were armed with to make faster decisions.
Real-time or near real-time analytics, 30 percent of gunslingers, 47 percent of all others
In-memory analytics, 13 percent of gunslingers, 19 percent of all others
Takeaway: When compared to other staffers, a gap exists in terms of appropriate equipment gunslingers require to make quick, accurate decisions.
Quantifying performance
Respondents were asked to indicate whether or not specific strategies for measuring the value of their performance existed within their organization.
Process for defining and communicating key performance indicators (KPI), 49 percent of gunslingers, 59 percent of all others
Performance-driven culture to drive accountability, 41 percent of gunslingers, 51 percent of all others
All line-of-business KPIs measured and reported on, 38 percent of gunslingers, 48 percent of all others
Takeaway: The success or failure of a gunslinger's decision making is not easily quantifiable for many organizations, which may lead to an undervaluing of their overall contribution to the company.
Companies need gunslingers to make difficult decisions, but many lack the critical tools to make those decisions quickly and easily. Additionally, organizations should put greater effort into recognizing the gunslinger's performance. They should also clearly define and communicate expectations of decision making.
Want to learn more? Download the complimentary Dell-sponsored Aberdeen white paper, "Analytical Gunslingers: The Quick and the Dead."