In 2014, Dell acquired the advanced analytics product Statistica, and set out on a project to migrate all of the company's data to our newly attained solution. In our Analytics Migration Series, we're taking a closer look at our journey in hopes of offering insight to other organizations embarking on this arduous but sometimes necessary process.
One of the first tasks we faced was analyzing who would be impacted by the migration and defining their job functions. Dell is no different than most companies in that with any software usage there are levels of engagement. Most employees are casual users, working with a subset of the product functions to accomplish their daily tasks. Then, there is a smaller subset of power users who eat, sleep and breathe the product, who will be most affected.
Download the e-book, "SAS to Statistica: The Great Dell Migration"
We quickly identified hundreds of users whom we needed to move to Statistica. The largest subset of those users work in Dell Global Analytics (DGA), a group that provides analytic expertise and support to a wide range of functional organizations throughout the company that don't have their own internal analytics expertise. Here's an overview of how the DGA team's expertise impacts the company: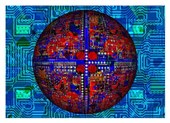 Supply chain. The DGA provides useful insight that improves our manufacturing by predicting potential disruptions to supply chains around the world.
Technical support. Our services teams embed critical data into customer solutions as part of services engagements and for preventative maintenance on hardware.
Financial services. DGA provides critical analytics for modeling, assessing credit risk and detecting fraud. Their models are closely tied to forecasts and bank rates, so statistical analysis is part of what they do day in and day out.
Marketing. The BI utilized by marketing gives clarity to what customers and prospects are saying, tweeting, looking for and buying. We use analytics to personalize offers, attract prospects and keep existing customers. We study things like customer churn, cross-sell and upsell opportunities.
Risk management: Not all decisions are perfect, and we use DGA analytics to lower the potential cost and risk of the mistakes we know we're going to make and the probability that those risks may actually occur.
In short, analytics is pervasive throughout Dell and DGA is a big part of our competitive advantage, and the migration affected our data analysts and users in all of those groups. But more important, since analytics is ubiquitous at Dell and embedded in our systems and processes, there are many more people who consume and rely on the analytic output. Any adverse change to this analytic output could drastically impact the business.
As a result, we had to take extra care to ensure the DGA team was fully on board with the process and make certain that their ability to deliver this business-critical data across the organizations was not hindered. This step may be challenging and time consuming, but it increased the chances of a successful data migration and minimized potential business disruptions.
Download the eBook, "SAS to Statistica: The Great Dell Migration" for more insights into embarking on your own analytics migration project.