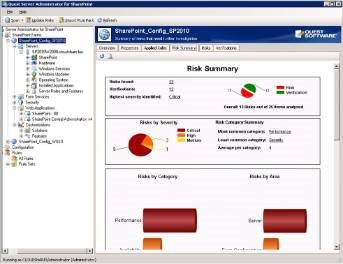 Have you tried out our free Server Administrator tool yet?! Server Administrator for SharePoint gives you maximum insight into your SharePoint server and farm configuration and customizations to optimize manageability, performance, availability and security.
Best of all this is a free download from Quest Software! There is no license expiration - just a good ol' free tool to analyze your SharePoint server environment. Download Server Administrator for SharePoint freeware today!
Check out this screenshot of the product that showcases the Risk Summary screen - you can view all the potential risks to your environment in one place!
Pre-Built Rules
Furthermore, you can check out all the pre-build rules within Server Administrator, including rules around performance, availability, search topology, security, Supportability and SharePoint 2010 Upgrade Readiness! See the attached PDF for the list of rules.
STAY TUNED - we have several SharePoint Celebrity rules coming your way! We'll post them on this blog!