Have you ever spent the day trying to figure out DNS issues on a network? DNS is one of the most essential services on any Windows network, so it is critical to troubleshoot DNS problems quickly. Active Administrator provides a simple DNS analysis tool that allows administrators to proactively troubleshoot DNS issues and validate DNS records.
DNS Analyzer allows you to test one or more servers by name or IP address.
Within the Active Administrator console, select DNS | DNS Analyzer: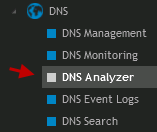 Type the fully qualified domain name (FQDN) or IP address of the servers to test. Separate multiple servers with a semicolon. To test Active Directory Domain, select the check box.
Use the FQDN of the domain to test in the Question box, and then click "Test" to display results: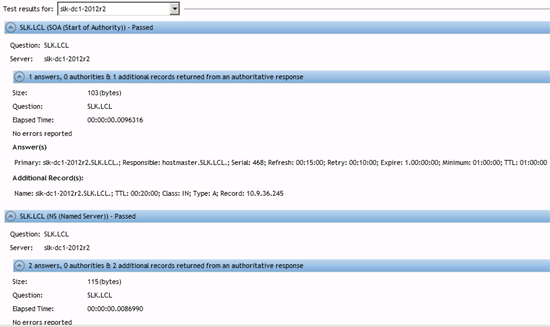 To validate domain controller IP addresses, select the check box as shown below. Each domain controller in DNS for the specified domain is pinged during the test.
This option is available only when the "Test Active Directory Domain" check box is selected. Click "Test":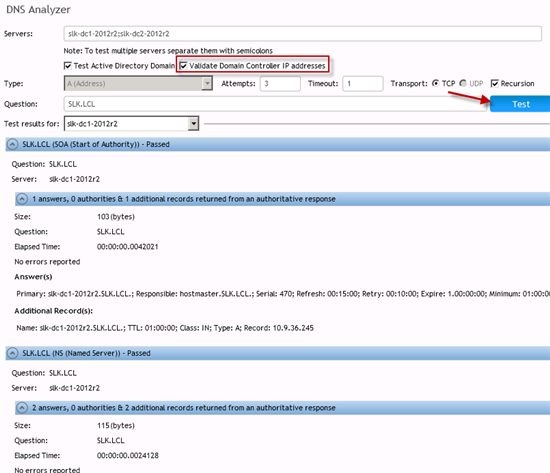 You can select the type of DNS resource record to analyze. The drop down menu for "Type", has a number of IPv4 & IPv6 record types: A, NS, CNAME, SOA, SRV, PTR, MX, AAAA, HINFO, MB, MB, MINFO, etc...
In the question field, I used Google as an example. If you want to test only the listed server, leave the "Recursion" check box unselected and then click "Test":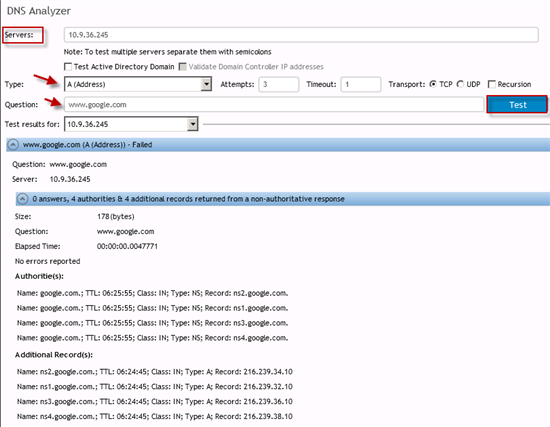 Active Administrator DNS Analyzer empowers IT administrators to take the initiative in troubleshooting DNS issues and validating server functionality. It is important to anticipate problems with DNS, before normal business operations are affected. This feature allows Administrators to easily test multiple DNS servers simultaneously for records such as MX or CNAME with the results printed in a clear format.
Now stay ahead of the game and go analyze!