We are pleased to announce that the Beta2 build of Quest®Storage Maximizer for SharePoint v1.0 is now available.
This build includes a number of core new features that we would like feedback on. It would be appreciated if you could ask any questions you have on this up on the StorageMaximizer Community to get some social groove on this or simply e-mail me at doug.davis@quest.com if you have some specific questions.
New features to review include the following:
Age Rule: This new rule allows you to

define

an age for the Document set you are externalizing. In the final release this will be a range.

Compression: One big advantage of having externalized content is that you can now compress it. So a large 500GB set of content databases may only take up to 300 GB if externalized. A lot of variables come into play but in general you can expect external content to use a lot less space.

Encryption: One big potential disadvantage to stuffing content on network drives and other storage devices is the relative ease that such content could be made more available to folks poking around. Having a good encryption process ensures that even if the data becomes exposed outside of SharePoint, it will be worthless.

Scalability: If you recall one of the caveats in Beta1 was to minimize the amount of content you externalized in one step. For example setting up a Storage Definition for an entire Site Collection and letting it churn through the documents tended to bog the server down. Thanks to tweaks in the way we use Timer jobs, you can know ramp it up to your heart's content.
There are also some UI changes and other things that make this beta more polished.
We are tracking towards a May release at the moment, we will give you updates as development continues.
GettingStarted with Beta2.
Download the build from :
Uninstall the previous version using the setup.exe from Beta1. If you have data you would like to maintain in SharePoint use the revert feature to return it to SharePoint otherwise it will be lost. This won't be the case once we got into production.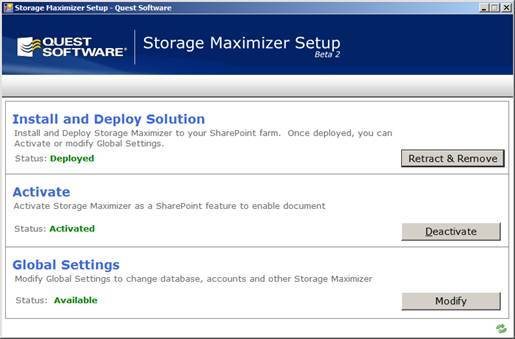 Run setup.exe from Beta2 and follow the quick wizard.
That's it, you're ready to go and start creating your Storage Definition.
What's still left before release?
Multiple Storage Definitions and Azure support are the main planned features left for v1.0 and we will give guidance as the release date approaches.