We at the Quest SharePoint group are all excited to announce a beta program for a brand-new member in the Quest SharePoint product family. Deployment Manager for SharePoint greatly simplifies and automates deployment and change management processes for SharePoint 2007 and 2010. You can selectively deploy entire SharePoint sites, metadata, SharePoint Designer workflows, web parts, themes and navigation between development, test and live environments.
Key feature highlights:
Visual Compare – discover the difference between any pair of sites or lists (e.g. dev and production sites)
Identify differences viewing sites side-by-side
Create incremental deployment tasks right from the difference report
Automate Jobs – define, manage, group and schedule object copy and replication activities
Remote Operations - connects to SharePoint using Web Services
Deploy Granularly – choose all content or specific parts (e.g. look and feel settings)
Familiar drag and drop, copy/paste operations
Moves can be one to many sites across server farms
Moves can be across versions
Track Activity – know what happened to support compliance and aid in troubleshooting
This tool is the perfect tool to combine with Quest Web Parts when working to push out those no-code applications you have built into production. For some time now you have been asking for a better way to deploy the applications you have designed with Quest Web Parts and with Deployment Manager we have delivered
This time, the beta will be managed on the new SharePoint for All community site. If you would like to participate in the beta program, go to http://communities.quest.com/groups/deployment-manager-beta-group. Sign in with your Quest Community ID, or register to create a new one. Then press the "Ask To Join This Group" button.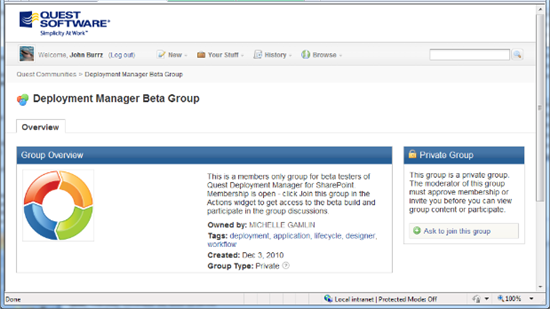 One of the site owners will review your request and will typically approve it the same day. You will receive a notification and then get full access to technical content and the beta build itself.
Quest Support will not be able to help you with this version until it releases, so please use the group's Discussion area for any questions, problems or suggestions.