Do you ever wish you could be like the guy in the photo? Wouldn't it be cool to have a zillion smartphones, tablets, laptops, MacBooks and Chromebooks all around you to play with? Sure it would.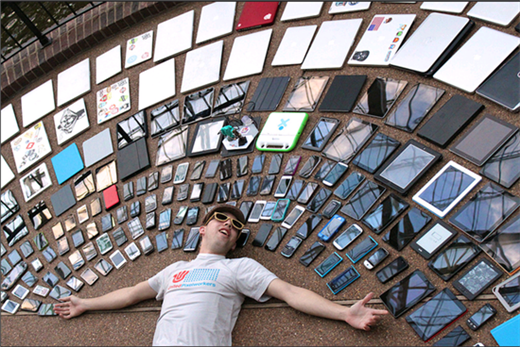 Oh, wait — you're in IT. Your co-workers are already coming in to work with all kinds of BYO devices like the ones in the photo. You already have a zillion devices around you. So why don't you have a smile on your face, the way this fellow does?
Because you have to manage and secure them all, that's why.
In my last post I introduced you to Eddie Endpoint and mentioned our new e-book, "A Single Approach to Anypoint Systems Management." This time I'll describe how the endpoint world is growing beyond the PCs, Macs and servers you and Eddie have known, and gradually becoming an "anypoint" world.
Anypoint management is here. Are you ready?
We sponsored a Dimensional Research survey a couple of months ago and uncovered what over 700 of your colleagues think about managing these anypoints. Do some of these findings ring a bell with you?
In addition to traditional computing devices, 96 percent of those surveyed had printing devices, 84 percent had mobile devices and 53 percent had audio-visual devices connected to their networks.

More than half of the survey respondents had three or more systems management tools. That makes sense because lots of administrators have to manage their mobile and BYO devices separately from their traditional computing devices, using mobile device management products and the like. Still, 67 percent of those polled wanted to use fewer systems, which makes even more sense.

More than 60 percent of the survey participants were sure, or suspected, that there were unknown devices or applications connected to their networks. Nobody in IT likes that, so it's a wake-up call to start pulling BYO, mobile and other network-connected devices into mainstream systems management products and keep them from falling through the cracks.
But how are you going to bring all of your anypoints into a single systems management umbrella? Read Part 1 and 2 of our new e-book right now.