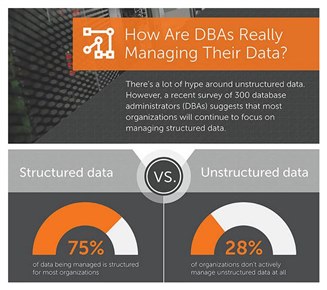 Ever get a serious case of FOMO (fear of missing out) when it comes to how other DBAs are managing their data? Chances are, you're not missing as much as you might think.
We recently teamed up with Unisphere Research and Database Trends and Applications to survey over 300 database administrators on how data growth trends and new technologies are affecting their role. Some of the results may surprise you.
Take unstructured data, for example: With the exponential growth of unstructured data, it only makes sense that organizations want to use it to make better business decisions. However, our survey revealed that structured data is still the main focus for most organizations, representing more than 75% of the data being managed. And when it comes to Hadoop and No SQL, if you're not using them yet you're not alone. But don't rule them out for the very near future—your peers think that new analytical use cases are the biggest driving force behind the adoption of new database management systems.
Feeling better about your FOMO yet? Not to worry. We've got more information to get you through it. Check out our new infographic to discover more database management trends and find out how you measure up against other DBAs.
And if you're interested in the full survey results, download the white paper.