When your organization is ready to take advantage of Exchange 2013, you must first determine a migration and coexistence strategy to seamlessly make the transition. The options available and special considerations vary by source platform, but Quest is ready to assist regardless of the current environment.
I recently participated in a webinar (https://www.quest.com/events/) providing an overview of the benefits of Exchange 2013 and discussing the transition options & considerations. We touched on everything from 2013 upgrades to full migration from Notes, GroupWise, and Google. While there are significant differences when dealing with a variety of environments, one common theme is the need for experienced resources and complete solutions to meet the needs of each organization.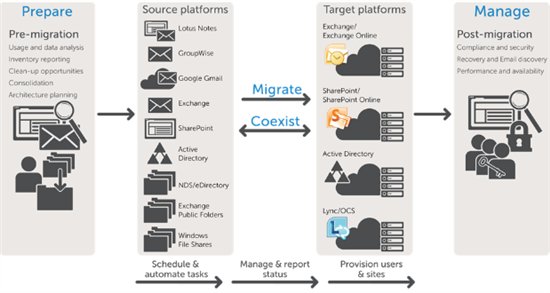 As you evaluate transition approaches and solutions, it is essential to consider proven & efficient options including central migration, self-service capabilities, and hosted migrations. This flexibility will be critical when building a migration & coexistence architecture to meet the unique needs of your organization and provide a ZeroIMPACT transition to Exchange 2013.
In addition to the transition itself, you will want to partner with an organization capable of supporting your efforts on the new collaboration platform and beyond. Quest provides the breadth and depth of experience that will pay dividends for your organization into the future.