In this post we will examine the various functionality of Stat around automating the process of creating a change service request (CSR). Many companies have other helpdesk/ticketing systems and manually create CSRs within the Stat client or Web Interface, but there are a few options that allow this to happen seamlessly and integrate together. The two areas I will discuss are:
Integration with other ticketing/helpdesk tools
Ability to create via email
Background: The Change Service Request is the foundation of any change in Stat. This is Stat's way of tracking all information and correlating it back to specific problems, enhancements, or projects. Within the CSR you will have workflows, approvals, and be able to version and migrate code.
Integration with other ticketing/helpdesk tools
Whether you use a packaged ticketing/helpdesk tool like Service Now, Remedy, Track-It, etc. or have a home-grown tool, you have options to create CSRs automatically and link that tracking number to a Stat CSR. This can be accomplished within Stat via two different ways, Web-Services or email. So which is best for you? Well it depends on the external tool and its capabilities, as well as your company's preferred method of integration.
Ability to use Web-Services to create CSRs
Web-services uses Stat API's to create the CSR in the backend. Stat will default in information that is not passed from the other ticket. Stat Web-services is discussed in detail in the "Getting Started with Stat Web Services API" guide. This document will walk you through examples and well as describe the setup and .bat files that need to be executed. Here is a sample piece of an API it uses: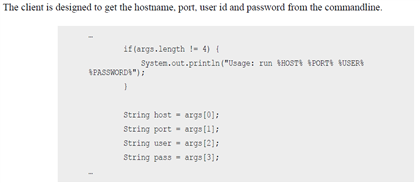 Ability to create CSR's via email from a ticketing/helpdesk tool or users
If you are looking for an easy way to integrate, you can use Stat's inbound CSR creation via email functionality. Stat allows you to setup email integration via the Maintenance/Stat Central Agent/Email Settings. As in the example below go into the 'Default Values' tab and check "Accept Inbound CSRs." From there you may put default values for things you do not want users to try to pass into the CSR, as I did with the Queue.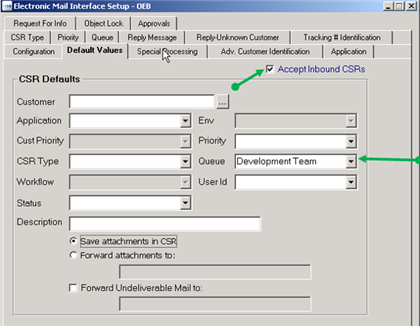 After this is setup you can have your ticketing/helpdesk tool send Stat an email and your CSR's will be automatically created.
If you are not looking to integrate with a ticketing/helpdesk tool you can still allow users to automatically create CSRs by simply sending an email to the Stat email account. Ideally, you will create a template for your users to use which will allow you to extract out the information you need to create the request. For information that users may not know (i.e. workflows, queue, etc.) you can select defaults as I did above. This will allow the issue to be automatically created and assigned to the correct person.
Conclusion
Stat has the functionality built-in to allow you to automatically create CSRs from an existing ticketing/helpdesk tool or from emails set from users. Whether using web-services or email integration the end result is the same. By automating this process you can remove manual steps and make a more seamless transition through a change's lifecycle.