After you have uploaded a patch to Stat you probably want to check for any prerequisite patches that are required before you can apply your patch. Stat can help you identify what those patches are and then you can schedule them to be applied before your new patch is applied. I am going to discuss how it works and what you need to do in order to check for prerequisites in Stat.
Depending on whether you are 11i or R12 it will change how you check for prerequisites and the technology that is used underneath. In 11i Stat utilizes the UMS system. The UMS is information that comes in each patch you download and carries with it information about other patches as well. That information is as current as the latest patch you have downloaded. In R12 Stat utilizes information in Oracles 'Info bundle.' Depending on your version of Oracle EBS will determine which tab you use in Stat to check for prerequisites.
To start, open the patch console as illustrated below by either selecting Consoles/OraApps Patch Console or using the quick launch icon from the toolbar.

Select the patch that you want to check for prerequisites and select the edit button.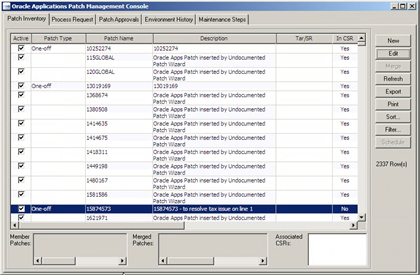 The edit button will open the 'Edit Oracle Patch' window as seen below. You will see two tabs, 'Prerequisites' and 'Prerequisites (UMS)'. In 11i select the 'Prerequisites (UMS)' tab and in R12 select the 'Prerequisites' tab.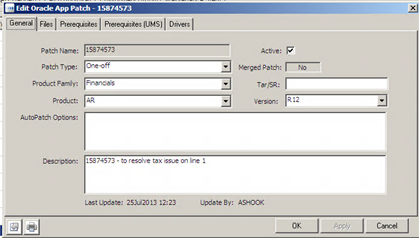 After selecting the appropriate tab, select the environment you would like to run the prerequisite check against and then hit the 'Get Prerequisites' button to run the request and you will see a popup. Hit 'OK' to close the popup. You may select the 'Refresh' button to refresh the screen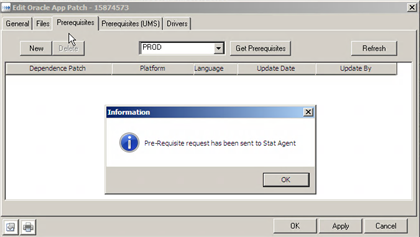 The results will then be displayed showing any prerequisites patches.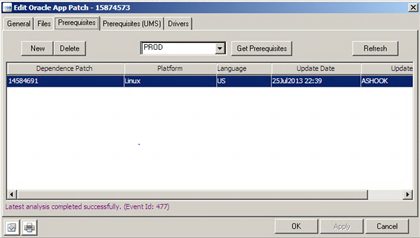 You then can go to My Oracle Support (Metalink) and download any prerequisite patches that are required. You should then upload them to Stat and add to the same change service request (CSR) as the other patch. In another article, I will discuss how to schedule the patches together and sequence accordingly.
Please feel free to ask me questions if you need more details.