Using Stat for Patch application and its scheduling capability is easy and can save you a substantial amount of time. But if you have scheduled a patch application in Stat you likely would like to receive notification as to if it successfully completed, completed with warnings, or completed in error. This article will take you through those steps and explain how to how to receive email notifications when a patch is successful or completes in error or warning.
You can set up patch business rules anytime, even before you schedule your first patch. Setting up a patch business rule is the same as other business rules but there are some specialty options available. To begin with, navigate to Maintenance/Domain Specific and choose Business Rules from the pop-out list (as seen below.)

This will open the Stat Business Rule Maintenance screen. Here you will select 'New' button as seen below to create a new rule.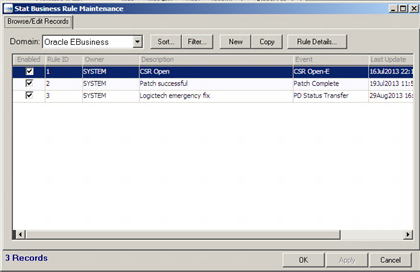 In the Rule editor, fill out the appropriate fields:
Description: The name of the rule
Event: Choose OraApps Patch Application Complete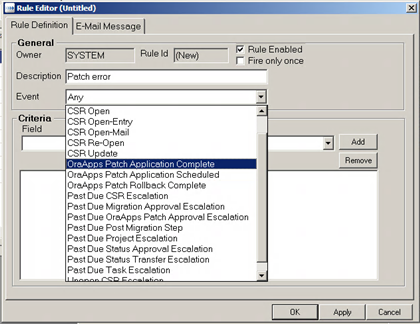 In order to select the appropriate Criteria choose 'Process Status' from the dropdown which will supply three possible results:
Comp/Err – The patch completed in error
Comp/Warn – The patch completed in Warning
Completed – The patch completed successfully
Select the appropriate Value and hit add.
Depending on the rule you are creating will determine the appropriate value. So if you want separate rules for all three then you will have to create three rules.

The finished result of the initial page is shown below: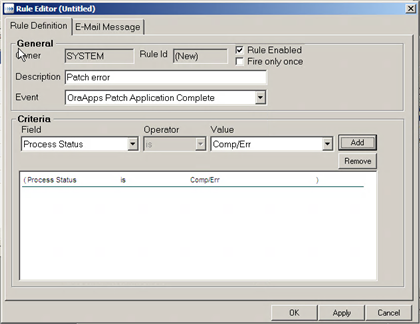 Click on the 'Email Message' tab to fill out the information you want to send by checking various fields that are pertinent to the event that will show in the email as per your needs. I have also filled out a' Message Header' message to help clarify what the email is about. After filling out the 'Message Header' click on the 'Send To' tab.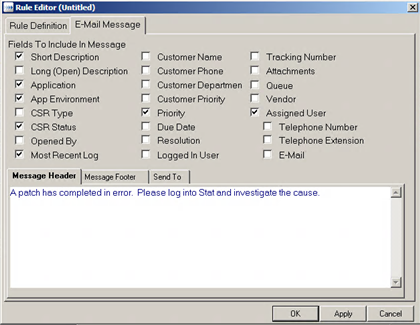 In the 'Send To' tab identify who should receive the email. You can specify multiple recipients by selecting and pressing 'Add.'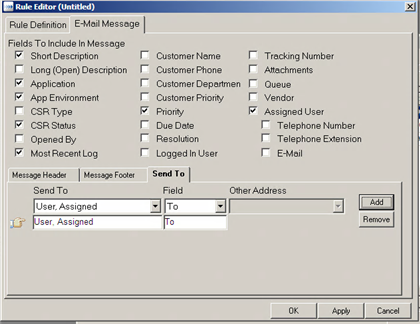 Note: Only after you select 'Add' and it appears below is that recipient added to the list. When done hit 'Apply and your rule is saved.
You have now successfully created a patch business rule in order to receive emails around patching status when it completes in Stat. Add other rules around patching as needed.
Please feel free to ask me questions if you need more details.