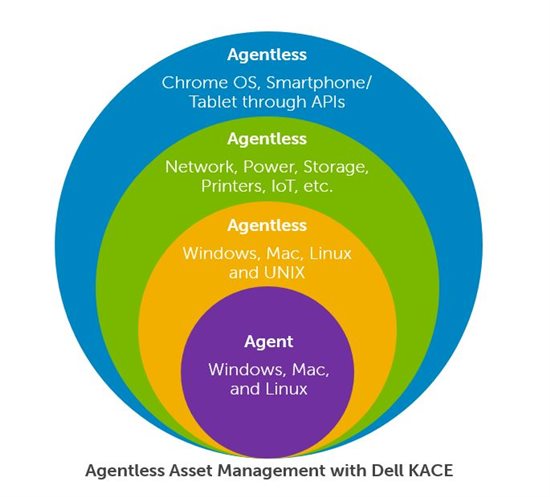 Traditionally, systems management has been accomplished by installing an agent on each managed system. What's wrong with that?
Well, for starters, not all systems and devices can support an agent. Electronic kiosks, ATMs and point-of-service devices, for instance, are locked to prevent the installation of any additional software, including an agent from a systems management solution. And many smart, connected non-computer devices, such as printers or scanners, do not allow for installation of an agent.
Moreover, even when agents can be installed, there can be a question of whether they should be installed. There is a perception, justified or not, in some IT organizations that installing a systems management agent can hurt performance, which makes those teams reluctant to install agents, especially on mission-critical production servers.
Asset Discovery and Management Without Agents
Agentless management is now a viable alternative to traditional agent-based systems management. Agentless management connects over SSH, Telnet, SNMP and other protocols to collect device information and report inventory. It's useful if you're running unusual OS versions/distributions, or if your organization simply prefers to manage its systems without installing agents.
It's important to remember, though, there are two key aspects to systems management: asset discovery and asset lifecycle management. Agentless asset discovery is harder to do, and harder to find in a solution.
A paper from Enterprise Management Associates, Inc. (EMA), "Best Practices in Lifecycle Management," compares the agentless asset management capabilities of the four leading systems management solutions. It reveals that two of the four systems management products can perform many asset lifecycle management tasks, such as hardware and software inventory, reporting and service desk, without an agent in Windows and Mac environments. For Linux platforms, Dell KACE is the only platform that provides license management capabilities.
But discovering the assets without an agent is another story. Only Dell KACE provides hardware and software inventory without an agent, ensuring you have complete visibility into everything on your network.
The EMA paper is a valuable guide for any IT team planning to implement a new systems management product or upgrade an existing one. Download your free copy, and be sure to read its detailed discussion of agent-based versus agentless discovery and inventory management.