Office 365 continues to exhibit impressive growth as many organizations migrate some or all of their users to Exchange Online. As more of these migrations occur, one of the common obstacles is large attachments that were acceptable within the source platform, but violate the policies and limits within Exchange Online.
Some migration solutions log these exceptions and continue processing, but other solutions may fail and stop processing the mailboxes altogether. In either case, the end result is lost data and additional complication as organizations attempt to transition to Office 365...until now, that is.
On Demand Migration for Email now includes unique, patent-pending technology to automatically detect and handle large attachments during migration. The process creates OneDrive for Business accounts (as needed), migrates large attachments to this unlimited storage location within Office 365, and includes a link to the attachment in the original message.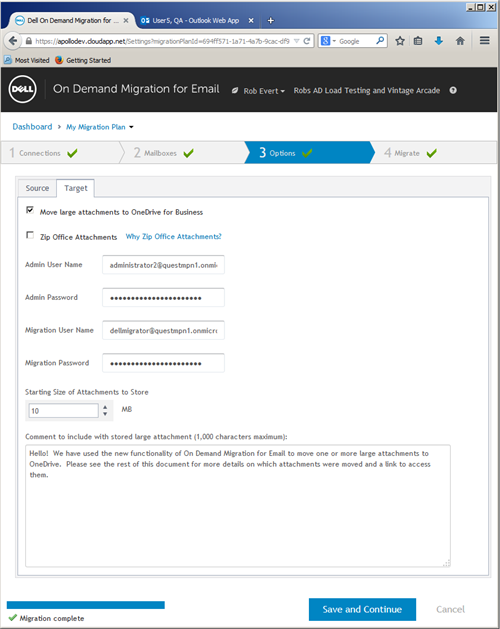 The threshold defaults to a value appropriate for Office 365, but can be modified (as demonstrated in this example) to further reduce the storage requirements in Exchange Online. In addition, there are options to zip Office attachments and include custom descriptive text in messages containing large attachments.
This automated approach eliminates the need to find, delete or move large attachments prior to the migration. As a result, this unique technology provides a streamlined way to preserve data that would be lost with other migration solutions and approaches.
Visit https://portal.ondemand.quest.com/ to start your free trial of On Demand Migration for Email!