(Turns Out, Smokey the Bear was Right All Along)
The fire department near our house is a font of community goodness. Its cherry-red engines are cleaned up and positioned for quick action; there's a used-battery drop-off box so we don't just add more gunk to the landfill; they've a 24/7 safe haven lobby for anyone in danger, and they've a huge, hand painted sign I drive by almost every day, which reminds us all: Safety First. Make Sure Everyone in Your Family Knows What to Do. Be Prepared!
Being prepared isn't just for fire disasters, of course. Any natural and human event which disrupts our lives with a huge impact can create a catastrophe, at home and at work. Preparation is critical to prevention because it proactively allows us to think clearly ahead of time, instead of reactively scrambling around to fix things in the midst of chaos. Which is why I love the fire station's sign and why I've always loved Smokey the Bear's message: "Only YOU can prevent fires."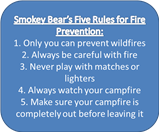 The message of preparation and prevention is one that IT professionals hear about, know about, agree with, and yet — yes, it's true — waaaay too often, ignore. We say we're too busy, or we'll get to it at some point, or more often than not — we just don't know what to do.
While we can't add more time to your day, turns out Smokey's got you covered on the don't-know-what-to-do excuse.
When it comes to protecting your data, one of the best ways you can make sure you are prepared and know what to do to prevent your own version of an IT forest fire is to do a Business Impact Analysis (BIA). Just like if there's a disaster at home and we know what to grab first and which doors to exit, a BIA concretely lets you see beforehand what the potential risks are if your business should be impacted in any way — by human or natural disaster.
A BIA allows you to evaluate vulnerabilities and identify costs linked to failures, again — ahead of time.
But where do you begin? How do you know what to include? (Read how one company reduced its risk)
Our BIA kit, Three Steps to Creating a Knockout Business Impact Analysis, can help. It provides you with tools to help you create a report outlining your organization's strengths and vulnerabilities if/when a data catastrophe occurs. It guides you to assess a disaster's impact over time and helps to establish recovery strategies, priorities, and requirements for resources that you may have not thought about. And because impacts always have monetary repercussions, the BIA report can be used to justify financial investments in, as well as disaster recovery strategies for, your data and infrastructure.
Finally, our BIA kit shows you how to get buy-in at all levels of the organization. Kind of like school firedrills where everyone is on the same page, and everyone is heading in the direction they're supposed to, so everyone is crystal clear on what safety is and what his/her responsibility is. It's one thing if YOU know the business impact of a data-related disaster at your company; It's another if EVERYONE knows and everyone agrees what their role is ahead of time.
You have nothing to lose and everything to gain when you do a BIA.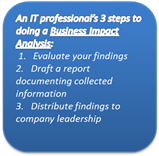 The kit outlined below will give you confidence and the BIA preparation tools you need to look at your environment with a clear head, with eagle eyes, and with a mind focused on the best outcome, not with a pounding heart and a brain screaming "oh no" over and again. I know exactly from where to grab my passport and my grandmother's wedding ring if something should happen at home. I know what it'll cost and what repairs I need to plan for each year to make sure my family is as safe as possible. Doing a BIA is no different. It's making sure your business is ready and safe ahead of time.
Business Impact Analyses — like Smokey's rules for fire prevention — are not 'nice to haves.' They are critical elements of a safe, productive, thriving environment. The Bear knows what he's talking about.