Image-level backup solutions have been able to restore at the image and file level for a long time.
In 2009, Quest introduced the option for object level recovery for Microsoft Exchange - Recovery Manager for Exchange (RME) into vRanger, making it possible to restore Exchange at any level (single email, email folder, entire mailbox etc).
Different recovery options
Let's go over the three possible restore scenarios we have for Exchange with vRanger and RME:
Image
FIles/Folders
Objects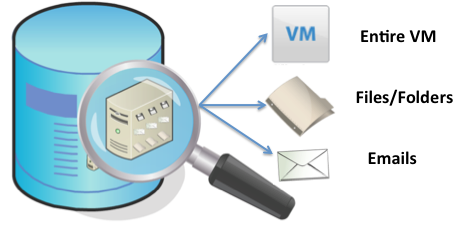 Image (entire VM) restore:
You should plan your Exchange environment to have some kind of clustering and high availability in place to be able to handle single server failure. Exchange 2007 has different cluster options which were improved in Exchange 2010 with DAGs.
Remember - if you are using Exchange 2010 DAGs, disable VMware DRS and HA as this configuration is not supported by Microsoft.
Even though you have clustering in place, there is always a need for full VM recovery. One scenario could be testing an upgrade from Exchange 2007 to 2010. Wouldn´t it feel safer to test the upgrade in a duplicated environment first, before updating your production environment?
Also, if for any reason Exchange totally crashes and burns, it would be good to be able to restore to a previous point in time.
Files/Folders (Exchange database) restore:
This is typically used for recovering individual files or folders within Windows or Linux guests.I am focusing on Exchange in this blog post. In that context recovery of a single, or multiple Exchange databases is possible. This can be very useful if your Exchange database(s) get corrupted and repair fails. I have also heard about updates/patches that have caused lots of data to get deleted. Having the possibility to recover the entire database is good insurance to have when things go bad; they will sooner or later.
Object Level Restore (single email, email folder, entire mailbox):
For the most granular restores, RME is required. It allows you to restore any object within Exchange (i.e. restore single emails, email folders, entire mailbox). This is very useful if a user deletes messages by accident and the data is no longer available in deleted items when they realize their mistake. Restored data can be put back to its original location, exported to a .PST file, or exported to an UNC path. Another area where RME can help are discovery and compliance.
Conclusion:
Ability to restore at any level from an image based backup gives you best possible options to be successful when disaster strikes.