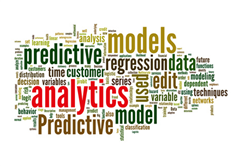 Everyone loves superheroes. As if we need proof, Avengers: Age of Ultron has already raked in more than $1.1 billion. Perhaps it's because we all love to fantasize about having superpowers. Who wouldn't want super strength like Captain America? How about the ability to fly, so you could whip past traffic on your morning commute?
Our daydreams could go on and on, but we suspect there's one superpower that would help you right now: the ability to quickly and easily analyze the massive volumes of data your organization collects each day. Imagine if you had Hulk-like strength to smash down data barriers. You could effortlessly collect, integrate, analyze and use all that data. But without the right powers ― and with constant demands to help generate business insights ― your data battles may seem more daunting than a faceoff with Ultron himself.
Well, that whole fantasy about ruling your data universe is about to become a reality. That's because we're delivering the power you need to easily turn data into actionable information. And we're talking about virtually all data here: data coming from traditional on-premises sources as well as cloud-based data sources and modern data stores like Hadoop and NoSQL. So if you're ready to get your analytic superpowers on, check out our latest version of Statistica, the advanced analytics platform.
Two important enhancements in Statistica 12.7 will empower you to take data analytics to the next level. We partnered with Datawatch Corporation to boost the advanced analytic capabilities of Statistica with enhanced interactive visualization and dashboarding. Rich, visual representations of various data streams will help you easily identify opportunities and hidden patterns. This release also offers self-service data preparation and real-time streaming to put data analysis power in business users' hands.
In his recent article, "We Bring Advanced Visualization to Analytics Platform," CIO's Thor Olavsrud noted that the addition of these advanced interactive visualization tools and dashboard capabilities extend the applicability of Statistica to additional users, including business analysts.
Statistica 12.7 also integrates with our Toad and Boomi product lines, delivering connectivity with more than 164 data sources, cloud or on-premises, in motion or at rest. Further development of the Statistica big data analytics module, enhanced text-mining capabilities, natural language processing and search tools, expand the product's ability to derive insights from unstructured data. The coolest part is that the Statistica big data analytics module brings advanced analytics to the data, rather than the data to the math.
We already have customers using the newly integrated Datawatch capabilities. Don your own analytical superpowers with a free trial of Statistica 12.7 today.