It has now been over two months since Microsoft ended support for Windows XP. If you are still running any PCs on Windows XP, you are leaving yourself open to significant security and functionality concerns. Nonetheless, Windows XP is still the second most popular operating system globally at around 25%[i]. If you have not started your XP migration project, it is urgent that you start now.
Quest has established a four-phase process for successful and timely migration, and ongoing maintenance, of your devices from Windows XP to Windows 7 or 8, and provides the tools to automate and simplify each step:
Phase I – Planning: Inventory, analysis, and rationalization
Phase II – Applications: Testing, remediation and repackaging
Phase III – Deployment: Migration of systems and user content
Phase IV – Support: Ongoing maintenance
This is the fourth and last in a series of four blog posts discussing each of these phases.
Phase IV – Support: Ongoing maintenance
Once you have migrated your PCs off of Windows XP, the next phas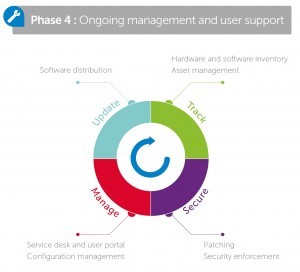 e you have to worry about is continuing support of these PCs in their new OS. Support of your new Windows environment begins as soon as the first user's system is migrated from Windows XP. Even though a modern release of Windows is deployed, these systems still need to be tracked, kept up to date, configured to your corporate standards, and secured. This is necessary for ongoing health and performance of your systems as well as to make sure you are in compliance with applicable regulations and are getting the most from your IT investment.
For example, a number of industry-specific regulatory requirements, such as HIPAA for healthcare and PCI DSS for retail, mandate organizations to keep up to date inventory of their hardware and software and also require that software be kept current with patches and fixes. Failed audits can lead to the suspension of certifications, fines, and public notification of non-compliance. In addition, understanding and rationalizing your existing environment can continue to deliver long-term value by improving decision making – when to upgrade versus refresh hardware, deciding on on-premise versus software as a service in buying new software, renewing software license agreements, etc.
Ideally, you want to prepare for ongoing maintenance and support before migrating your systems to their new environment. You should select tools as part of your migration project that will, not only help you migrate off of Windows XP, but will also enable you to efficiently manage the entire lifecycle of your systems in their new OS – from deployment to inventory and asset management to security and support. With automated tools that continue to track and manage systems, all of the effort that went into understanding and rationalizing the original environment can continue to deliver value in the new environment.
The Dell KACE K1000 Management Appliance can help you greatly with ongoing management and support of your systems in their new OS. The K1000 makes tracking, updating, securing and managing systems a snap – for Windows, as well as MAC OSX and Linux systems. For IT administrators, the K1000 appliance provides extensive hardware and software inventory, patch management and software distribution, security audit and enforcement, and policy and configuration management functionality.
In addition, K1000 can help you support end users after they migrate. Users moving from Windows XP to Windows 7 or Windows 8 must learn a new user interface. Participants in a recent Dell survey indicated they underestimated the amount of time needed for end-user training and support after their migrations. To help end users, the K1000 user portal that implements an IT service desk. Users can submit requests through email, through the web portal and on their mobile devices through a free app for iOS and Android devices. In addition, a knowledgebase is also available for self-help.
Complementing the K1000, the K2000 deployment appliance can help you image and deploy new systems and also reimage systems as necessary – change hands due to someone leaving or starting up, fix a problem with the system, etc.
To find out more about how the KACE Appliances can help you with your Windows migration and ongoing maintenance, please see:
Quest webcast on end of XP support by Microsoft
A joint IDC and Quest KACE webinar on Systems Imaging
A Quest Whitepaper on Windows Migration